Sex with tied eyes: pleasure on the brink.
Visual perception of a person provides the receipt of about 90% of information about the surrounding world. Even the process of choosing a sexual partner or man for life together is mainly dictated by a visual impression – a charming smile, gait, eyes. Nevertheless, many couples have already discovered the charms of sex with a tied or closed bandage with eyes. If you remove vision from a sexual act, then what will remain in it?
It turns out that the touch in the dark is significantly increased, since it remains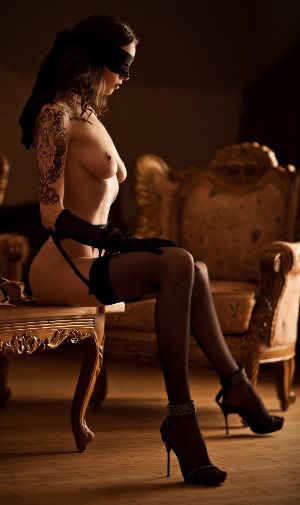 the main way to perceive and study the surrounding reality. Visual impressions are so strong that skin receptors are fading into the background, and in sex it is not a plus. It will be useful for a guy and a girl to lose the visual channel of perception to feel completely new facets of sensations and pleasure. It often happens that it is sex with blindfolded eyes that allows a woman to experience an orgasm.
This type of intimacy may be associated with dominance when the "lower" partner is limited due to lack of vision, and the "upper" can do anything with him. This is a special type of sex that couples come to time with time – at first it is better to interact softly, gently, delicate. This approach will completely remove fear and allow you to tune in to pleasure.
Inexperienced couples can be offered some tips that will make sex with blindfolded eyes truly exciting:
The partner deprived of vision becomes helpless, so the task of another person is to take a sexual initiative for himself, that is, to excite and then give pleasure. You can use a special atmosphere – candles, pleasant aromas, silk bedding. A delicate sensual massage can act as an aperitif – it is important to constantly add variety in movements so that the partner does not understand where the hands will move on. By the way, in addition to hands, an excellent idea will use its own body as a massage tool.
In a situation where a person is deprived of vision, all bets must be made precisely for touch, so such a love game cannot be dispensed with without textured fabrics – fur, velvet, silk, atlas. In addition, you can take feathers, which also allows you to gently caress the body of the partner. Lovers of the Games with restrictions offer to go further and, in addition to the blindfold for the eyes, also use Berushi – this is a very interesting experience.
The massage itself exacerbates sensuality and sets up in an intimate manner, and if you also practice special techniques, you can bring a partner to madness. It is also necessary to stock up on a special fragrant massage oil with aphrodisiacs, and at the end you can add silicone lubricant for the genitals, which will allow you to go to full sexual intercourse. By the way, a person with blindfolded eyes can behave as you like – to lie without movement or vice versa actively caress a partner.
Sharp tasks. Playfulness and coquetry are an important component of a good intimate life. While the partner is limited in vision, you can use this time in full – for example, prepare pieces of different products, sweets, spices, and ask to guess them, feeding his lover from his hands. If you couldn't guess, you should ask him a small erotic task that he will perform as a punishment.
The blindfold for the eyes is simply necessary for those pairs who want to know the new aspects of their love, are open to experiments and are ready to plunge into them with their heads. The usual limitation of vision is actually able to give a love game a completely different color, to make it interesting and non -trivial.