How to use vacuum pomp to increase the penis?.

Vacuum pump – This is an indispensable tool in the arsenal of male sex toys. The pump will help to extend and strengthen the erection for affiliate sex, and is indispensable for masturbation. And if you use a pump complete with an erective ring, the erection will be even longer and stronger. So how to use vacuum pumping correctly?
How a vacuum pump for a member works?
In fact, a vacuum pump to maintain male erection – This is a regular pump consisting of a sealed cylinder and pumping mechanism. A hose leading to the pear, which is needed for pumping air comes out of the cylinder. Near the pear there is a free valve to bring pressure in the pump to normal atmospheric pressure. Most vacuum pumps are intended only for the penis itself, but not for testicles, although there are special models of pumps and for the scrotum.
► a sealed cylinder before use must be lubricated with a lubricant at the base, and then insert the penis inside.
► The cylinder is tightly applied to the groin of the groin, and then pressed several times on the pear.
► due to the fact that air is pumped out of the cylinder, a reduced pressure area will create in it. At the same time, blood pressure in the penis and head will increase, blood flow to erectile tissues will increase. The penis will begin to increase in length and in width until it finally comes to «combat» state.
► Now you can press the drop -down valve and move on to active sexual actions. You can also put on an erectile ring to prolong sexual intercourse.
If you use the pomp on a regular basis, over time you will see an improvement in an erection. But be careful when using a vacuum pump:
Always use a lubricant;
Reduce the pressure inside the cylinder not immediately, but gradually;
Do not hold the cylinder with reduced pressure on the penis longer than 20 minutes.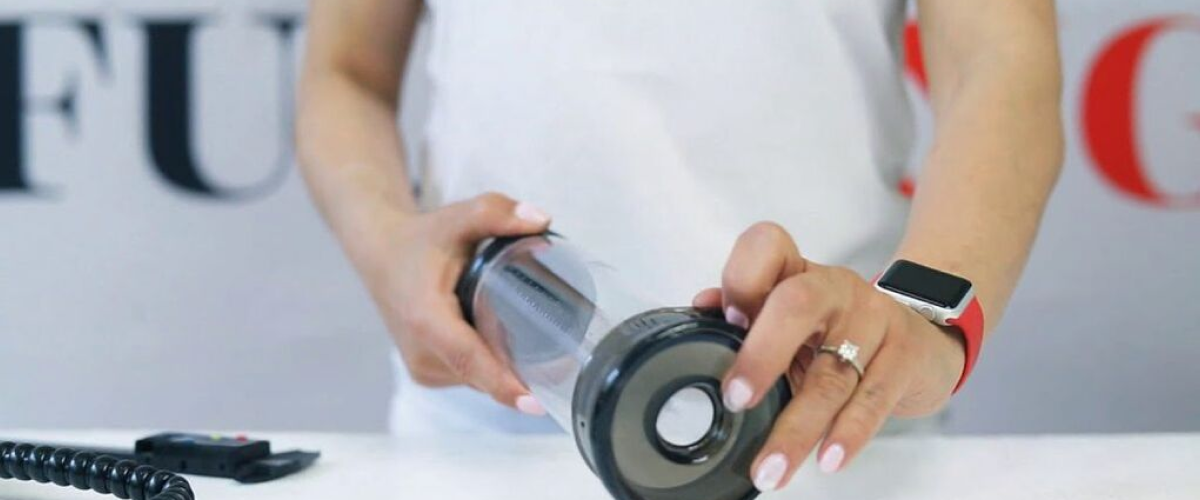 Why is a vacuum pump for a member?
For some reason, most men are convinced that a vacuum pump is needed only for those who have a violated erection. Of course, the pump helps such people to establish sex life, but this is far from the only reason for its use. Then why still need a vacuum pump?
Increase in the penis
While manufacturers of magic ointments and miracle tablets to increase the penis are acquired to customers only gullible men, users of the vacuum pump probably know that this simple device can increase the length of the penis to 6 cm!
Strong erection
The penis not only becomes solid, but its sensitivity also increases. You get such vivid impressions of sex, which you could not dream.
Masturbation
Yes, this can be done with your hand or vagina-monastery. But the orgasm from the use of a vacuum pump is felt in a completely different way and is somewhat similar to a blowjob.
Preparation for the blowjob
Your penis will become much more sensitive, and you will get more pleasure from oral sex. Can also be used to prepare for cunnilingus.
Prevention
All men aged 30 are recommended to do at least once a week «massage» with the help of a vacuum pump, so that in the future there is no problem with an erection.
By the way, it is not at all necessary to use a vacuum pump only for a member. With its help you can play with a clitoris, chest and nipples. Just don't forget about safety precautions!
How to choose a vacuum pump for a member?
There are vacuum pumps for every taste and wallet. They differ in size, material, color, functionality and strength. So the choice depends only on your imagination and material capabilities.
For those who just need a pump without any bells and whistles, there are budget models ROOKIE PENIS PUMP and Potent Developer. They are sealed and 100% cope with their task.
Pump Worx Mega-Vac Power is also ideal for beginners – Vacuum pump with automatic air pumping. Its base is made of special rubber, which allows you to use lubricants on both water and silicone basis. A more advanced version of the automated pump – This is Pump Worx Digital Auto Vac Power. She has a digital display and graduation on the cylinder. But the most important thing – It can be used without hands!
If you want to know new sexual sensations, you need a pump with vibration. For example, the Classix Power pump. And a vibropulus with a remote control will allow you to control the degree of your pleasure!
And if you are used to taking everything from life, you need PUmp Worx Travel Trio – A pump with vibration and three realistic nozzles made of soft material. Both pleasure and diversity in just one vacuum pump!