18 pose in sex – "two -story".
"Two -story" position or 18 pose for an intimate life does not require special athletic abilities. However, a man must have some strength to withstand the weight of his partner and move her body along his.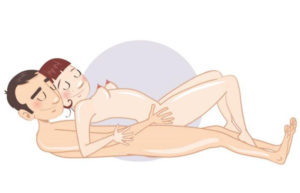 Relaxation for two in pose 18
18 pose is that a man should lie on his back, and a woman – on top of him. At the same time, she lays her back to him so that her nape is approximately at the level of his neck or face. Next, the girl should throw her hands back and completely press her back to her man's chest. With her legs, the girl rests on his knees or on another surface: a bed, floor or table. The partner penetrates it and makes movements with his male dignity.
Despite the fact that the girl is above, the entire pace is set by a man who controls her behind. A partner can put his head on his shoulder so that it is convenient for him. 18 Pose in sex is ideal for the transition between the postures or if the man wants to bring the girl to the pose of the reverse rider: this is how everything will happen naturally and not will cause discomfort. And both partners will not have to strain much or show any acrobatic abilities, just relax in this pleasant "two-story" pose.