Sex pose 11 – "Climbing to desire".
Pose 11 has the name "Climbing to desire". The name of this 11 pose in sex, of course, is symbolic, however, its performance requires quite real physical training, especially on the part of the man.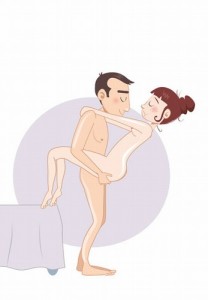 11 pose in sex – deep penetration
Pose 11 in sex is suitable for strong men and thin girls, because it is that the man holds his partner by weight. The climb the climb suggests that the man should stand up smoothly and bend his knees a little, then the girl wraps over his neck and he lifts her, after that she hugs him with her hips. In order to protect yourself a little in the ascent pose and make this "rise" more comfortable, you can try to raise a girl from a sitting position, for example, from the bed.
The climb provides the maximum deep penetration when the woman will move up and down. A man can also control the rhythm of her movements in 11 pose in sex. True, it will not work for a long time for a long time, so it is suitable only for a fleeting variety, ultimately this position can be replaced by more comfortable positions, for example, missionary, when a man or woman is below.