Rules for a good virtual.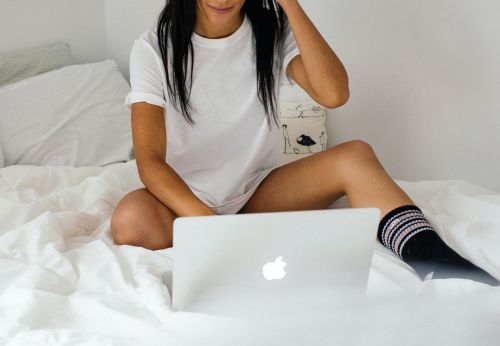 Virtual sex (Wrth, Cybersex) call frank communication with an attractive person through the Internet. The purpose of the Virt is to get an orgasm, and for this interlocutors masturbate, teasing each other with exciting words and demonstrating the piquant parts of the body.
Depending on the possibilities and sexual desires, the interlocutors communicate in the following ways:
through messages (sexting) – sending each other erotic messages, photos or videos;
vocal – lovers hear each other, but do not see;
In the video chat – the most exciting way, since eye contact occurs.
Virtual partners cannot touch each other. But this moment is just starting – the inability to touch the one who excites, hits imagination and enhances sexual desire. The interlocutors are configured to enjoy, so they are happy to fulfill the bold wishes of each other – to undress, touch themselves, stand in an erotic pose.
Virtual sex tips
Communication – This is a key moment in cybersecks. Before you arrange a hot Internet, talk to each other about what you both want to get from this experience. Worry completely normal, so discuss your boundaries, sympathies and antipathy to avoid discomfort and find out the limits.
Communication in time is also very important – tell the interlocutor what you feel, do or would like to do it/she.
After sex, also discuss – whether everything turned out that you liked it or not, thank you for the time interesting time.
Create a mood. Prepare the place where the virtual sex session will be held. Take the room, make sure that you are not distracted in the process of communication, if you live not alone, turn on light background music, light up candles at will.Since there is no possibility to physically feel the touch of a partner, let a sex toy take his role at this time. What can you choose:
Vibropul – It is perfect if you are a beginner in virtual sex or do not want to show a game with an accessory on camera. This vibrator has restrained design and small size, so its use is unlikely to be noticeable during the video call process.
Sex toys with remote control. Virtual sex will reach a completely new level if you add a device to it, the management of which can be transferred to the partner. And some accessories are even able to work together. For example, the movements of the male masturbator transmit the frequency and intensity of actions to the vibrator used by the girl. This allows you to make sex at a distance of full -fledged.
What are the pluses of cybersecks
Virtual sex is more reminiscent of joint masturbation that couples practice to diversify intimacy. He also helps to get pleasant emotions, saturates with adrenaline and provides bright sexual discharge.
Virt-communication- A great way to maintain sexual connection between partners who were temporarily in separation. This way to get physical satisfaction reduces the likelihood of real betrayal.
Pursuing cybersecx, You can not be afraid of an unplanned pregnancy, After all, sexual contact does not occur. At the same time, both participants in the process receive intense sexual sensations that are not much inferior to the high from classical proximity. Plus to this – there is no risk to pick up sexual infection.
Wrth is a solution for those who so far have For certain reasons, there is no way to lead a full -fledged intimate life. If a person is not yet ready for serious relationships, and random sex seems to be a bad idea, then Cybersex is the best solution to the problem.
Some people easier to relax and relax, Being a distance from a partner. In the case of Virt, constraint is minimal: even if something goes wrong, at any time you can get out of the chat or turn off the computer.
Cybersex can become a kind of prelude Before classic sexual intercourse. Exciting each other through gadgets, partners will already be maximum as possible by the time of intercourse. And, therefore, sex will turn out hot and frantic.
Getting acquainted with the partner for the Wirt, you can do not reveal a real name, Age and profession. This especially attracts people who love reincarnations. Cybersex goes well with hot role -playing games.
If you no longer want to engage in a virtual with a person who has not delivered pleasure, it is not necessary to explain and listen to accusations. It is enough to write that there will be no more communication and not answer his calls.
Does Cybersecx have minuses?
Yes, there are some risks. They can be avoided if not frank and monitor the safety of communication.
In a fit of passion Do not lose vigilance and do not send a unverified partner Virty naked photos or videos, so that later they do not meet them on the network. Another option: a person can resort to blackmail and demand money or sex for a return of intimate pictures.
Communicating via the Internet, It is very easy to deceive the interlocutor. If lovers are unfamiliar with each other in reality and are engaged in cybersex only through correspondence, there is a chance that someone alone (or both) does not correspond to the proposed description. For example, an elderly man may introduce himself to a young girl.
Do not give a virtual partner too much information about yourself, If you do not want to get a surprise, see it on the threshold of your own house. Especially bad if a person turns out to be aggressive or unbalanced. Even a polite, but obsessive fan can cause a lot of inconvenience.
Some people who often resort to this method to achieve sexual discharge, can become addicted to cybersex. More often, men and women with low self -esteem, complexes, mental and sexual disorders are subjected to such a risk.
Safe virtual rules
Completely protect yourself from the unpleasant consequences of virtual sex will not work. But it is also impossible with ordinary sexual intercourse with a new partner. Observe simple rules to reduce the risk of problems.
Presenting a stranger in a chat, Do not name the real name. The account should also be made under the nickname (pseudonym). Also, you should not share information about your place of residence, work, friends and family. Give the phone number, of course, no need to.
In order to at least partially hide your personality, before the start of sex in the video chat is worth muffle the light in the room. There should be no things in the frame that can tell something about the owner. Remove the photographs, documents, corporate clothing from the zone of visibility zone.
Some freedom -loving partners allow each other to have fun through cybersex with other people. But if earlier this moment was not yet discussed in a pair, You should first find out the attitude from the other person To virtual love. Otherwise it will lead to conflict or even parting.
It is important not to cross the line – Do not move from a hobby to dependence. If ordinary sex has ceased to bring pleasure, and virtual intimate meetings are increasingly taking place and more often, you should stop and begin to solve the problem with the help of a competent psychologist or sexologist.If suddenly I wanted to see a virtual lover in real life, warn about this meeting of someone close. You also need to come up with a code word – in case a person turns out to be inadequate. Friends should call ten minutes after the start of the date and closer to the end. If they hear the code word, they will understand that not everything is in order.
Sending photos or videos to a virtual partner, Do not forget about anonymity. Your face should not be visible on them. For example, remove so that the head does not get into the frame, or use the photo editor. In the phone settings, remove the information about the place and time of shooting, as well as the device for which the photo was taken.
The folder in the phone or the computer in which your naked pictures are stored, Must be hidden. Also disconnect the backup function in the "cloud" storage.
For communication, use messengers who have Automatic removal function after a certain time.
Do not engage in a drunk cybersex in a drunken state. Alcohol erases the boundaries of the rational, which can lead to problems – the safety rules will be forgotten, and the risks will seem inconsequent.
Ideally, it is better to find a permanent person for the Wirt and have fun only with him, at first acting very carefully. You will quickly understand whether you can trust a virtual lover. If you want to enjoy sexual communication with different people, you will have to take risks-no one will guarantee that one of the Internet partners will not be a pervert or blackmail.