Tasty blowjob. How to turn oral caresses into dessert.

An interesting experiment — Tasty blowjob. The process becomes more exciting and bright. And although this is not suitable for daily games, it is still nice to sometimes please a partner. To implement, there are several methods requiring different accessories.
What is the taste of blowjob?
Technique «Tasty blowjob» implies that the penis turns into dessert, and his taste is sweet.
But if you want salty, then you can also try to come up with something.
In addition to taste, there should also be aroma. It is he who causes the maximum desire. Therefore, for the creation, substances that have a bright smell are used.

Delicious blowjob with ice cream

Ice cream is put in a bowl, let them warm up a little. It should become soft, but not watery. And in the process of blowjob, when the member is already completely immersed in the mouth, ice cream is added. A spoon of dessert is taken in the mouth, and then a member immediately.
Warm mouth and ice ice cream — this is interesting. A man feels a chill, but not so intense to weaken an erection.
After the first spoon of ice cream was eaten, you can take another. But it is important to understand that he cannot finish with ice cream. It will be able to tease it, but before the finale any cold is contraindicated.

Funny bubbles
Delicious blowjob with lemonade — This is a fantastic sensation. In the process, a carbonated drink is typed in the mouth, and then a member is immersed there. Do not immediately swallow sweet water. Let the bubbles «Sweat» Partner penis.
To make the effect, it is important to take highly carbonated drinks, and not let it evaporate. Pour the glass in advance and leave on the shelf will not work.
It can be replaced with champagne, it will also be interesting.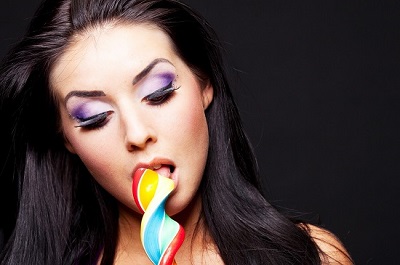 Mint dessert
Before oral caresses in the mouth, a mint lollipop. And only then can you start the process. The sensation of the chill will be very intense, and if then still blew on the member, taking it out for a moment from his mouth, it will turn out very interesting.
You can use not only a lollipop, but also a mint chewing candy or even chewing gum. There is such a blowjob technique with chewing gum — It is stretched in the mouth, entangled the penis, it turns out unusual.
The perfect dessert

But not all doctors recommend using food products for oral sex. If you get into the urethra, inflammation may occur. That is why lubricant manufacturers have created special lubricants with excellent tastes.
Oral lubricants solve several problems at once, firstly, give a pleasant taste. It can be a fruit mix, and it smells great and really tasty. There may be a dessert: tiramisu, salty caramel or creamy ice cream. Secondly, lubrication improves sliding.
Blowjob with grease is very different from caressing caress. It is worth only once to try, and you will always use the product as an assistant. «Wet» Blowjob gives more pleasure to a man, he can finish faster. But the main thing is that the girl's efforts are reduced, sliding is simpler, so the neck and jaw do not flow.
The choice of delicious lubricants is huge. You can buy the one you like more. And do not think about finding soda, ice cream or sweets.
Oral lubricants do not contain calories, they do not affect the diet.
They can be swallowed, they are safe. The composition is safe.
Suitable not only for oral sex, convenient for anal and vaginal caresses.
A man can also do cunnilingus with this tool.