Step -by -step instructions for female masturbation for beginners. How to masturbate?.

Such natural for many, masturbation can be a novelty not only for adolescents, but also for quite adult ladies. The ideal partner in sex, taboo, sleeping sexuality or ignorance of their body, the causes are not important, because sooner or later masturbation is known to all ladies.
Step One: Comfort
If no one can interfere, wait for no one to wait until there is no one at home or ask not to disturb;
For hygiene, lay a towel under you;
Turn off the TV and the phone so that nothing can distract;
If you use a vibrator for pleasure alone, choose the most silent.
Step two: relaxation
A glass of good wine will help to relax and forget about the problems;
Light an aromatic candle with your favorite smell;
Warm bathroom – A great way to relax the body and mind;
Use body massager (vibrator may also become) so that the muscles relax.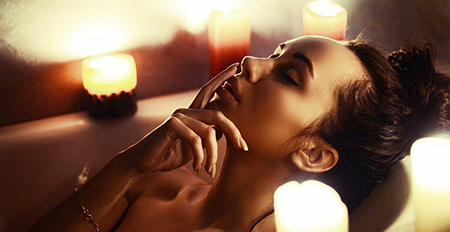 Step Three: Fantasies
Remember or read the most piquant moments of your favorite erotic book;
Watch the intimate scene of your favorite cinema, an erotic movie or easy traditional porn, although if your fantasies went further – Do not restrain yourself – Prepare in advance those shots that you have long dreamed about;
Imagine how you do this with your favorite actor or a person from real life;
In order for the imagination to play faster, use associations: sounds, smells, touch, which are identified with one or another sexual object.
Step fourth: excitement
Start with light stroking with the tips of the fingers of the most sensitive erogenous zones: neck, nipples, chest, abdomen, etc.D.;
Use the vibrator at low speed, gently touching all zones and moving below, to the labia and clitoris;
Combine caresses with your fingers and vibrator, you can try caresses «Hot cold» – For some, the temperature difference is incredibly pleasant;
Use a lubricant, some grease perfectly warm up and excite sexual appetite.