How to make a masturbator-vagin with your own hands.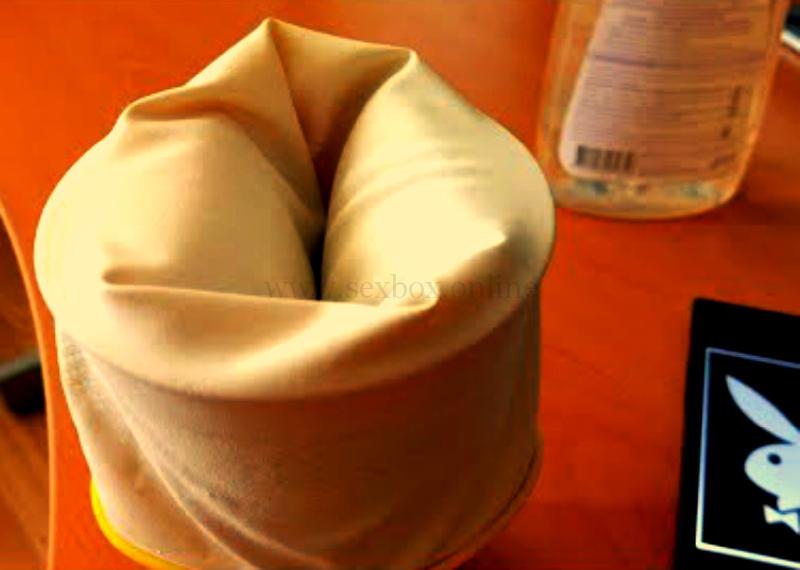 4 reasons to make a sex toy:
Free – there are always a bunch of improvised materials at home
Without a fervor – in 2 seconds it transforms back into home objects, and you will not be sunk to your home
Safe – no chemical discharge. All of the usual everyday life
Unusual – you can get completely unusual sensations – by the density of fit, the force of exposure. You can at least make different vaginas for yourself every day
Standard masturbator
Before starting the manufacture of a home-made vagina-see which masters are sold in sex shops here.
See examples of masturbators to understand what to strive for in your manual creativity.
19 ways to make a men's sex toy with your own hands from improvised means: step-by-step instructions with a photo
How to make a homemade homemade masturbator made of starch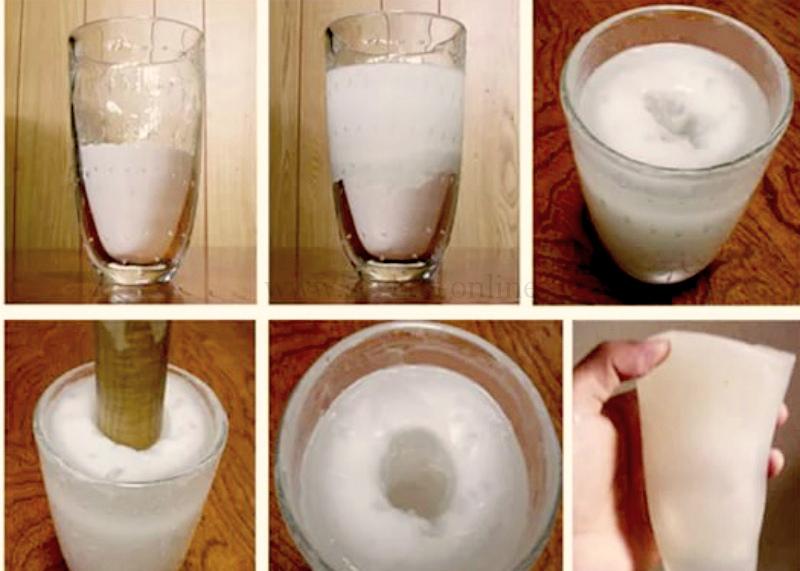 Photo: artificial masturbator-vagina from starch
An artificial vagina of starch at home is made very simple, unusual and pleasant to the touch, you can masturbate without a condom – just pour lubricants, baby or vegetable oil inside it.
Pour approximately 150 grams of starch into a tall glass, pour water to get thick gruel, add another 100 g. Starch and still water. Make thoroughly.
A glass with a gruel for 60 seconds to place in a microwave in standard mode. The mass thickens, but not up to stone density. With your fingers, a handle from a pan, a cook – make a recess to make a slightly erect penis.
Too wide – the penis will hang out like in a bucket. Too wide – just won't fit.
For final processing for an hour and a half, place the glass in the refrigerator.
After get out, fill the oil – and go, hide.
Super quick way to make a home -made vagina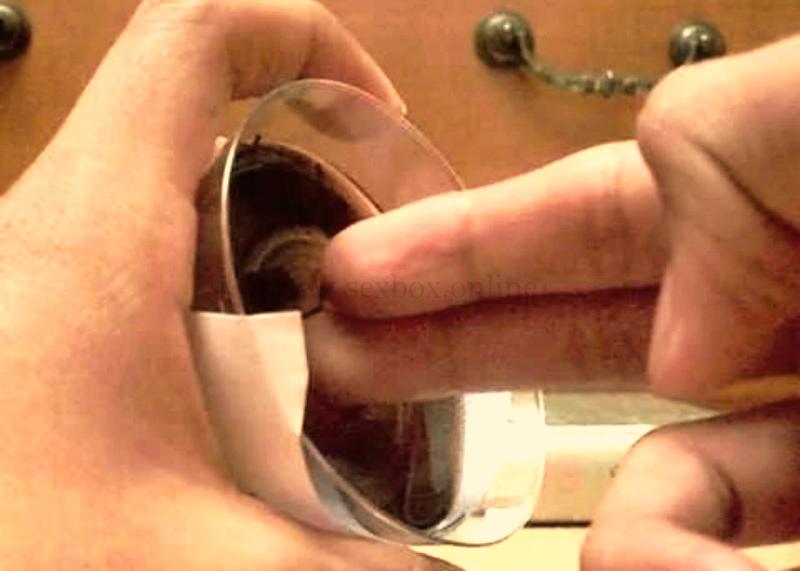 Photo: homemade masturbator from gel candle
It's so easy to make a home -made silicone masturbator.
Almost every house has soft gel candles that are poured into a glass container.
Heat a little in a water bath (hold 10 seconds above the steam of a boiling kettle).
Pull out the wick, make a recess for a member with two fingers – the home masturbator is ready.
It is advisable to take a high candle, and the glass is voluminous.
You can also not wear a condom – just pour oil or lubricant. Insert a member into a gel candle – it turns out very light, delicate sensations, it quickly takes body temperature, like the introduction of a member into a soft, unlucky, warm vagina.
Maspurbator vagina made of foam and plastic bag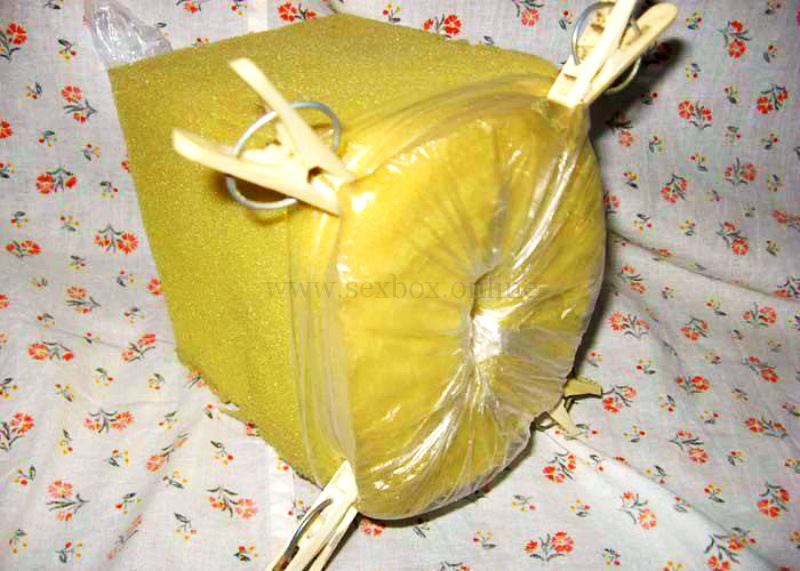 Photo: homemade vagina-masteral of foam rubber
This is a very simple way to make a home-made sex toy. Take a piece of foam rubber in a rectangular or square shape, cut a recess, put a regular plastic bag inside, fix it with clothespins.
Pour vegetable oil abundantly inside.
It is recommended to masturbate with a condom, t.To. folds of the bag can grate the delicate extreme flesh of the penis.
We make an artificial masturbator from a plastic bottle and washcloth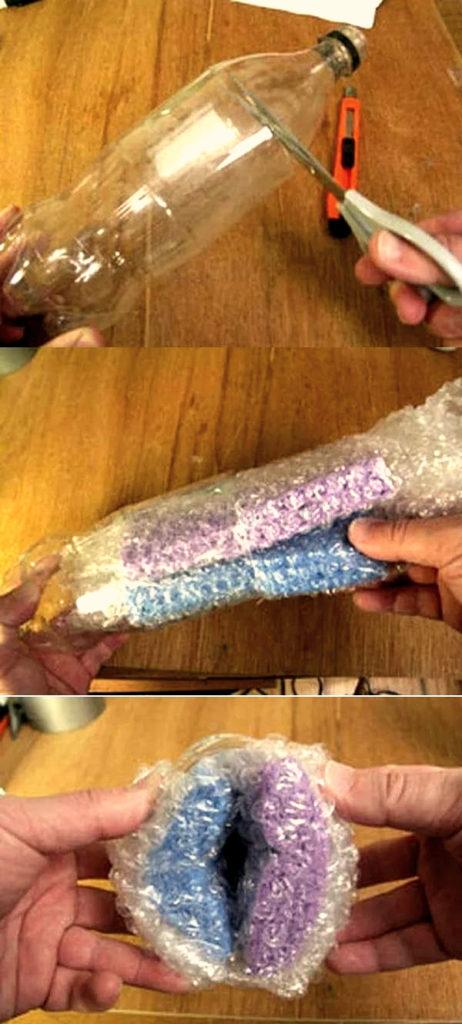 Each house has a washcloth and a plastic bottle, so you will need a minimum of time to make such a vagina.
You cut the neck in a plastic bottle. Wrap the washcloth with polyethylene, turn into a tube, insert it into a bottle. Pour oil – and enter a member.
Need a condom, t.To. The washcloth is nirovna, and polyethylene forms hard folds – you can grate the head.
Male masturbator made of foam and condom

Photo: how to make a vagina made of foam rubber, gloves and cukes cans
To make such a vagina with your own hands, you will need a little more time and a little material.
We need a high bank from under chips, foam rubber, condom and densely ring (from the curtain in the bathroom, from the curtain in the room).
At the bottom of the condom, put the ring so that it does not dangle below, but was expanded. Turn a piece of foam rubber around the condom, drive the entire structure into the jar of chips.
You can build a roths or masturbator anus-cut the edge of foams with scissors and paint sponges with a marker, or anus folders.
Pull the edges of the condom on top.
Inside – pour the lubricant abundantly. An additional condom is not needed.
Such a masturbator tightly wrapps a member, expanding and narrowing during frictions.
Masturbator "Hairy Pisya" with your own hands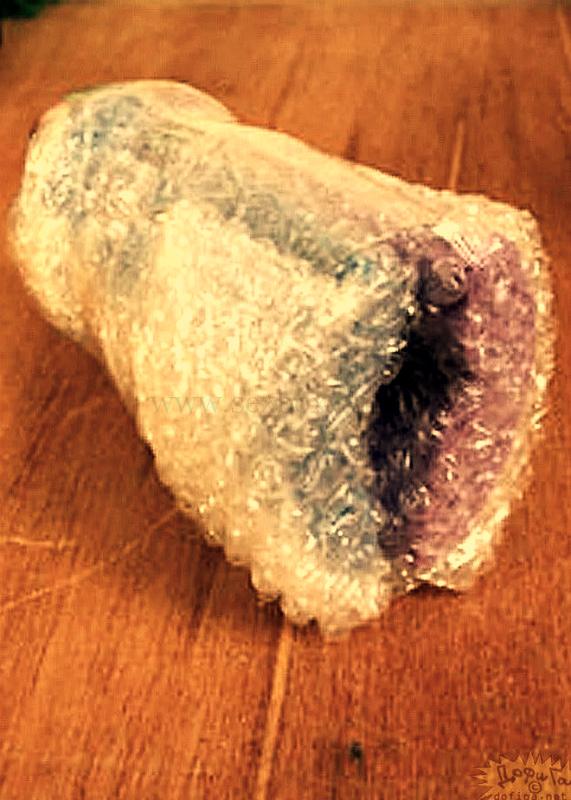 Photo: natural vagina with your own hands from foam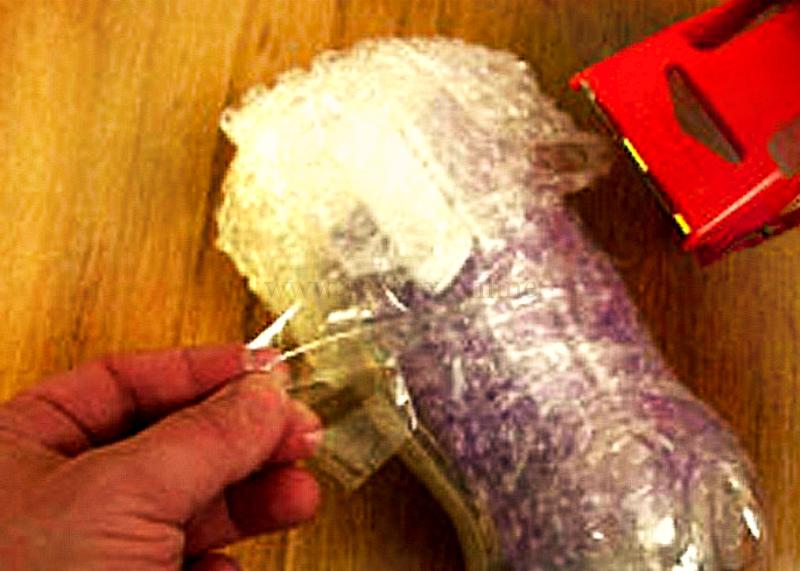 If a man wants to feel the naturalness of a hairy vagina in a home -made masturbator – it is easy to make it with your own hands at home. It is perfect to please yourself at night after buying a new laptop)
You will need a plastic bottle in which cut the neck, insert a foam inside, or a fabric rolled with a ring, wrap with a packaging "pimpled" film on top and inside. Outside tightly wrap with tape.
The member will slide down the pimpes, squeezing and unclenching them and periodically bursting. Unusual handjob.
How to make a vagina yourself from the dishes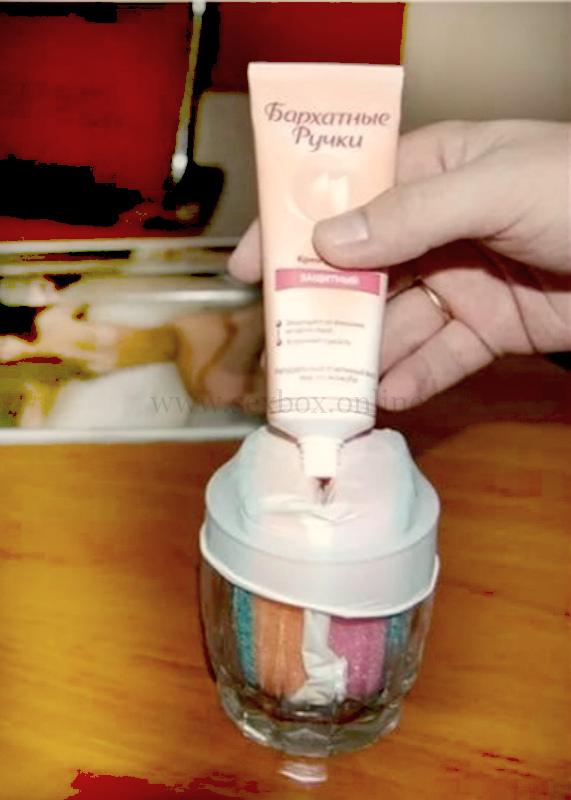 Photo: homemade vagina made of foam rubber, gloves and glasses
For the manufacture of this home -made masturbator, everything is already in your kitchen.
Berte 2 sponges for dishes, clamp the glove between them, strengthen the structure in a glass glass. Hand cream or sunflower oil is suitable as lubricant.
Homemade masturbator from gloves and coffee cans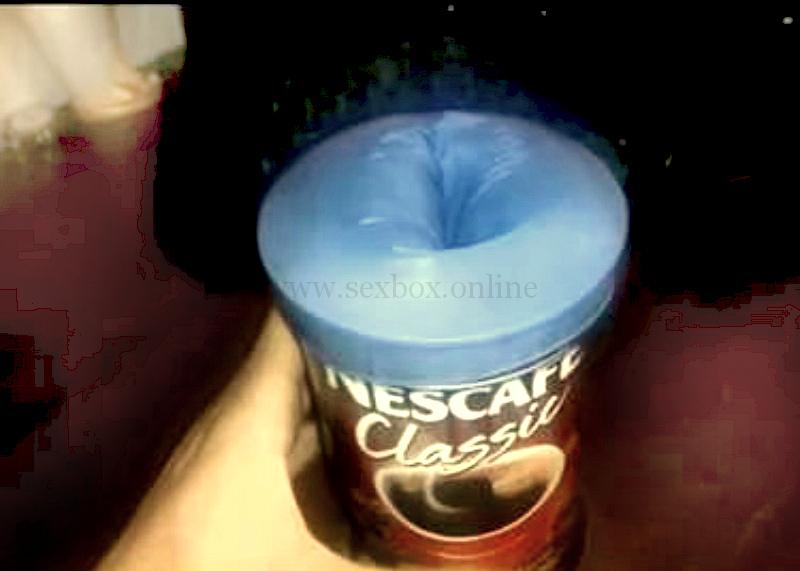 Photo: artificial vagina made of foam rubber, gloves and coffee cans
This sex toy is made similarly to the previous one, instead of a bottle-a coffee bank.
Artificial vagina from cardboard and gloves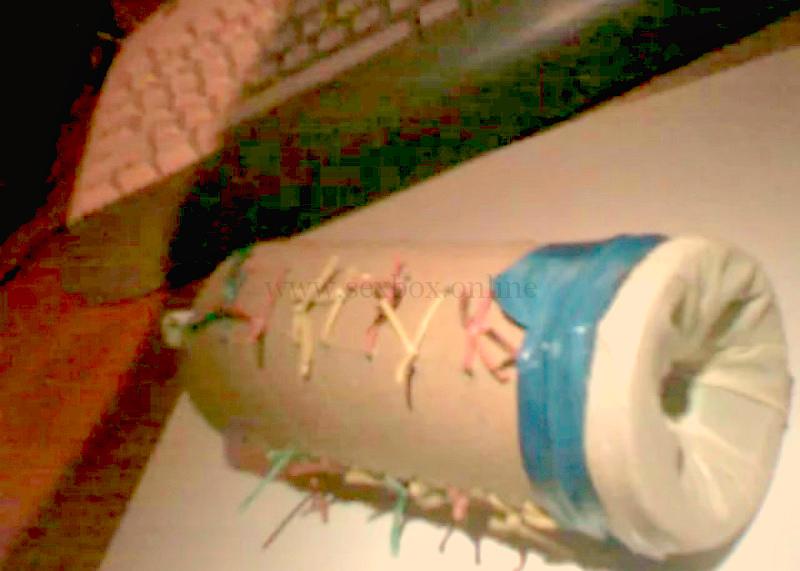 Photo: how to make a home vagina of cardboard and gloves
To make such a vagina yourself – take any piece of cardboard, twist into a tube and fix it with tape or isolation. Around the glove, wrap the fabric or foam torn with a roll, insert into the tube. Pour baby oil inside.
Cotton artificial vagina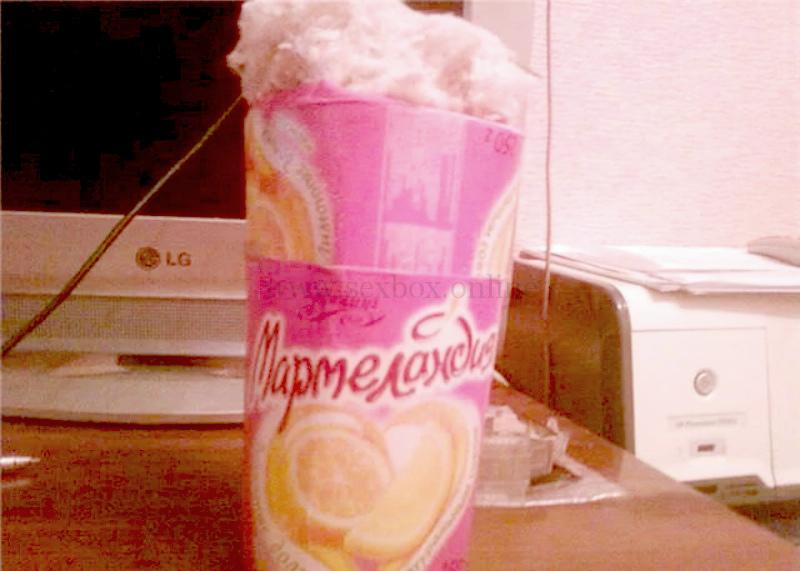 Photo: Vagina at home from packaging and cotton wool
If you want a soft, impregnant home vagina with your own hands – take a plastic bag, put a wool inside, make a recess in the middle, insert a condom into it, and stretch the edges to the edge of the package and fix it with tape.
It will not be tightly wrapping a member of such a vagina, but will also give unusual sensations. The package is soft – it can be burned tight in the process of masturbation.
Homemade vagina from the ball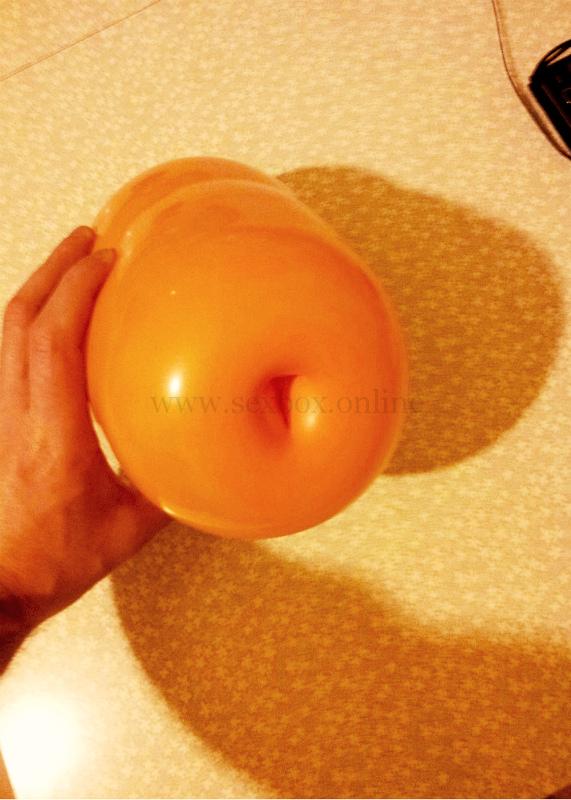 Photo: homemade vagina from the ball
If at home there is an oblong ball – Vagina with her own hands is already ready)
Do not inflate the ball very tightly, do a deepening from the end, pour more grease and masturbate.
Homemade vagina from a bag of water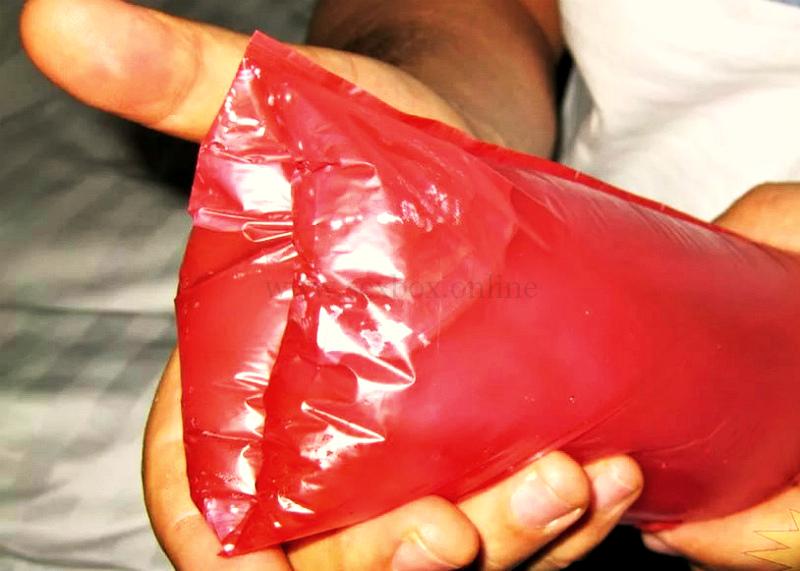 Photo: how to make a female vagina from a packet with water
Take 2 bags, insert them for tightness into each other. Pour warm water inside, roll with a tube. The vagina is ready.
Masturbator from the glove "Kapitoshka"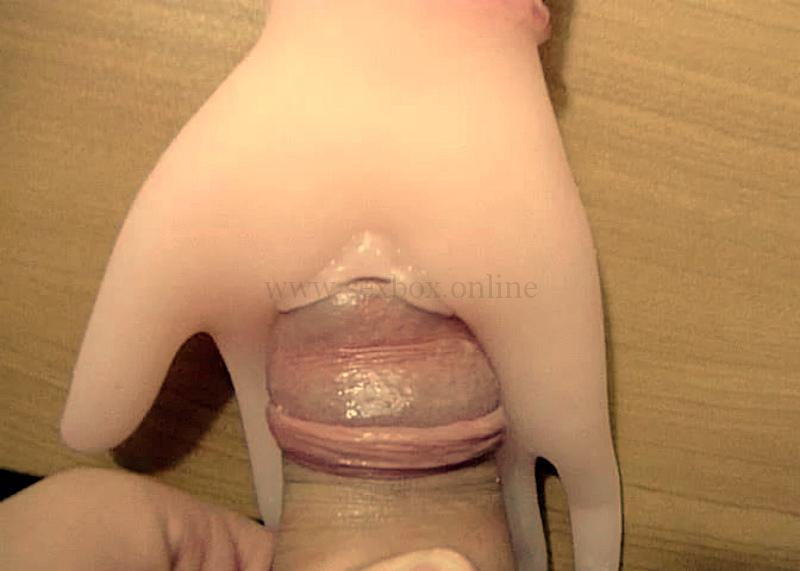 Photo: Homemade masturbator from gloves with water "Capithera"
This is a super -simple way. Pour water into the usual rubber glove, tie the end with a knot, jerk off. The glove is elastic, but does not tightly wrap the member's head.
For a variety of sensations, pour cold water into the glove and masturbate until it warms up. You can masturbate without lubrication – then dry rubber tights up the head of the penis. If lubricated abundantly with a lubricant, the penis will slide quickly.
Simple masturbator from a spray bottle and pure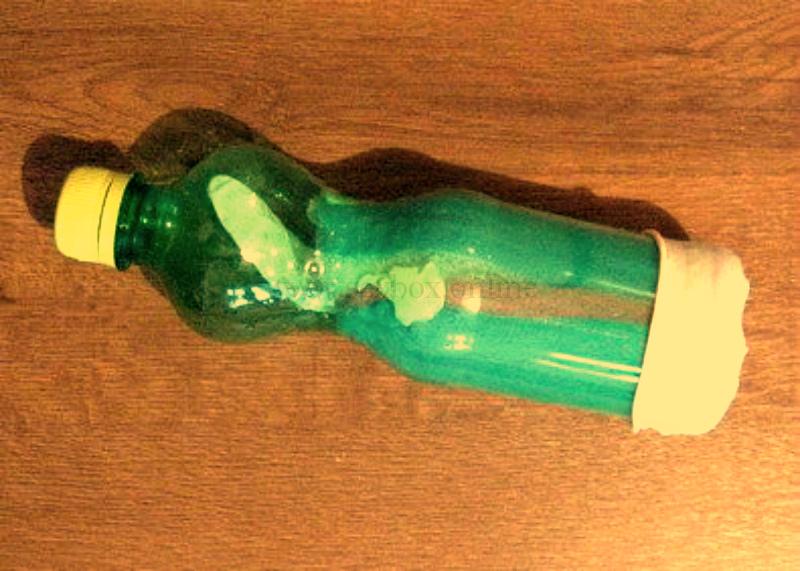 Photo: Home masturbator from a bottle
Cut off not a neck, but the bottom, insert a glove without foam inside, pour lubricants. The penis will be easy to slide and hang out.
Homemade artificial vagina "like an elephant"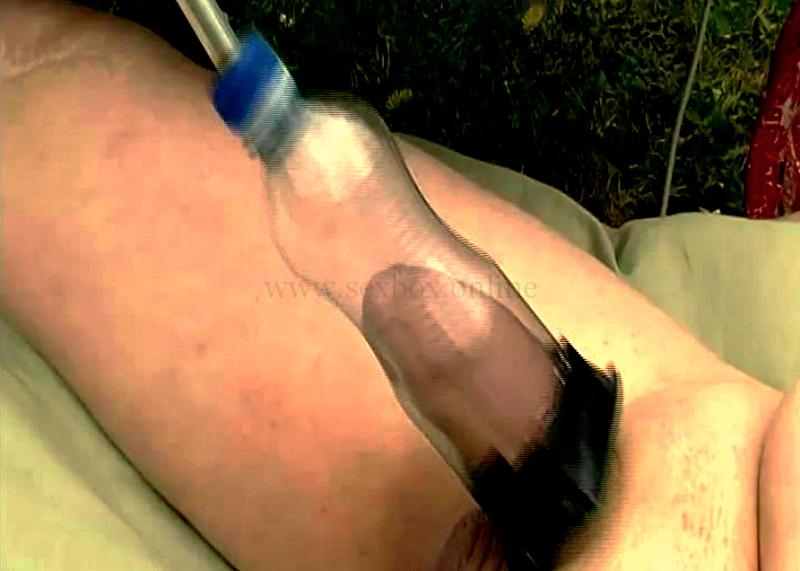 Photo: Masturbator "Big Vaginal Elephants"
Take a plastic bottle of 0.5 l, cut the bottom, wrap the edges with electrical tape or tape so as not to get hurt. Lubricate the member with lubricant and enjoy.
The bottle is wider than the penis, they must be moved so that it hit the wall. It creates that you have sex with a woman with a vagina elephant.
Artificial road masturbator from a towel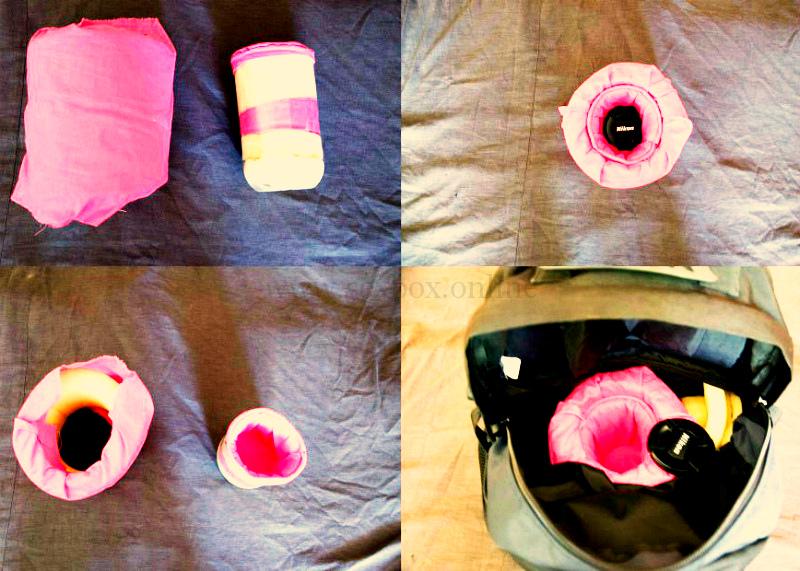 Photo: You can make a vagina of lips and fabric
Such a masturbator is easy to do on the road, so improvised items for this sex toy always with you. Turn a towel with a dense tube, fix it with tape. Wrap a fabric cloth on top, bend the edges inside. It is necessary to make the hole deep and narrow. Masturbate in a condom.
Sex toy Masturbator of balls, gloves and towels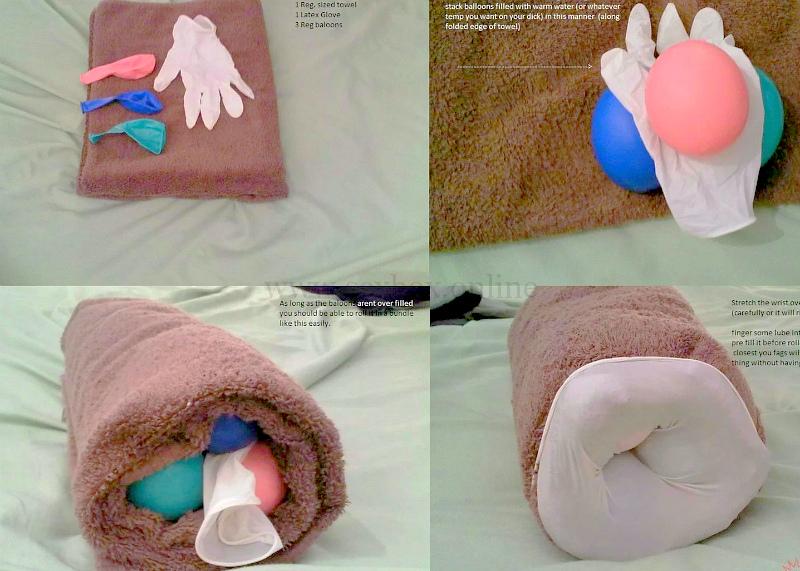 Photo: how to make an artificial female vagina of balls, gloves and towels
You will need 3 round inflatable small balls, a towel and a glove. Balls inflate small sizes, put a glove between them, wrap it with a towel on top, fix the edges of the glove.
Homemade vagina "smells very tasty"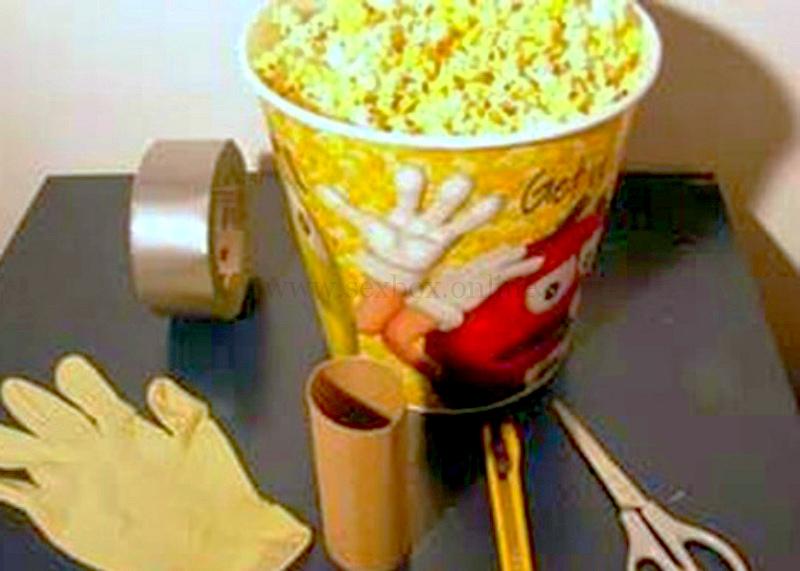 Photo: delicious artificial vagina from popcorn
For the manufacture of such a masturbator with your own hands, you will need a cardboard wide tube with a bottom, glove and popcorn.
In the middle of the cylinder, insert a glove, fall asleep around it, fix the edges with a glove.
The glove should be dense, it cannot be replaced by a condom that it does not break and the head of the penis does not hurt. During the hand, the popcorn will warm up a little and its smell will become even stronger.
Homemade masturbator from plum "plumber"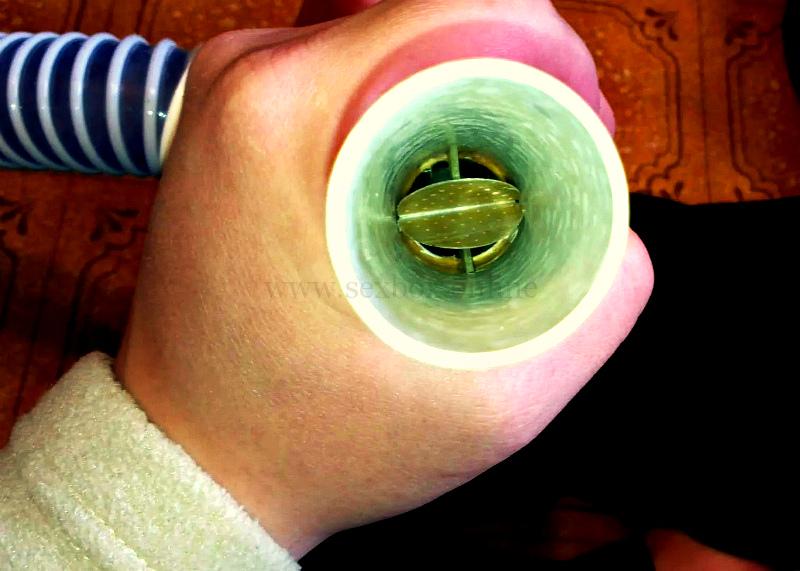 Photo: DIY masturbator from the pipe
Such a sex toy can easily make with your own hands any man changing plumbing in the kitchen-pull on the edges of the pipe a condom or glove, pour oil, and fuck it from the heart.