How and from what you can make a condom?.
We all know where condoms are sold. Many of us even remember by heart all round -the -clock pharmacies (or gas stations) in our area. But either under the pressure of the goal, which is invented by a cunning, or in search of a thrill, some are the idea of how to make a condom yourself. In order to satisfy human curiosity, this article lists the most popular methods of home -made condoms, and at the end you will have a surprise – the stories of couples, which still decided to try their man -made masterpieces, so to speak, in the case.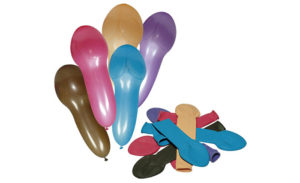 "Ready" options
Theoretically, among household items that surround us in everyday life, are full of those that can be adapted to wearing on the penis without changing their forms. Looking around more closely, you will probably find what you can replace a condom. You can make a condom almost from everything that at least somehow resembles the phallus.
Air balloons
The option is suitable if you have a crisis of ideas or a birthday has recently passed. Primitive ball of ordinary stall. In addition, nothing needs to be done. Without any ceremonies, just pull it at the crucial moment. Further, different scenarios of the development of events are possible. In the best of them, you both just laugh for a very long time, and then go to the pharmacy for normal condoms. And in the worst, you injure the mucous membranes to yourself, your partner, and you are not so fun going to the hospital.
Seriously, the ball will not protect you from SPPP, and will not prevent an unwanted pregnancy. And you are unlikely to get pleasure due to the thickness and rudeness of the material.
Latex gloves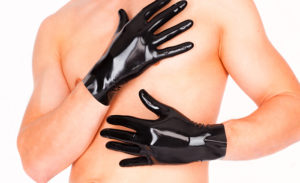 Also a very suitable form, but you will have to be squeezed. You will need scissors and a favorite rubber glove. Can be latex, you can for washing dishes, which one you like best. Cut all your fingers (glove, not yourself) with scissors! You have five condoms at once.
Guts of animals for home sausage
Option for real connoisseurs of home sausages. Sold in meat departments and on the Internet. Thanks to natural origin, hypoallergenic, but this is perhaps their only dignity.
Condoms from improvised means
Not quite obvious, but possible options for making a funds of barrier contraception without leaving home.
From a plastic bag
Elegant ties turn an ordinary plastic bag into a bag, which at least somehow holds on a penis. So, how to make a paternal from a package. Take small bags that are sold in rolls (they say that the bags for freezing are especially thin and delicate), add a little lubricant inside and try to fix it with threads, thin elastic bands. Most likely, such an absurd design will have to be held constantly by hand if it comes to sex. Letters of readers in the legendary Speed-Info newspaper for 1991 are advised to fit a plastic package under a more anatomical form using a hot iron.
From food film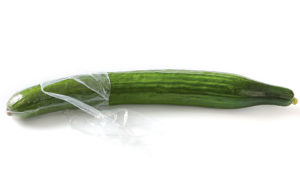 The capabilities of the food film are truly limitless. Once you can wrap the table when moving, so you can wrap anything. The plus of this method is that you are not limited by the market and the finished "condom" will be your size, just "pack" an erect member into the film. The plus of the way is that there will be no air between the member and the film (unlike the plastic bag), as in the normal condom.
Most likely, sharp edges of plastic winding, you will rub the vagina in the bloodstream. But, if you still decide to do it, do not forget the lubricant.
Independent preparation of the intestines of animals
Feel like an ancient Egyptian. Yes, because this is one of the first ways to protect against unwanted pregnancy, since in ancient Egypt, as in ancient Rome, there was no fashion for a large family, but rather, on the contrary.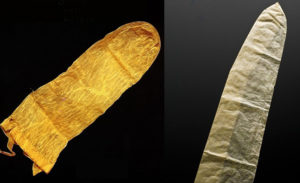 To make such a historical gandon, you will need the freshest intestine of the artied core, preferably a calf. To get started, rinse it with an antiseptic, and then withstand in a solution of a special poison that will achieve the remaining microbes. Lubricate the finished product with oil and can use.
Safety and efficiency of homemade condoms
All homemade condoms are made of the materials inappropriate for sensitive skin and mucous membranes of materials. In polyethylene, rubber, guts are too large pores, through which both sperm and pathogens of infections will calmly pass.
All materials (except, perhaps, intestines) are very allergenic, the case can reach anaphylactic shock.
Rubber and polyethylene products are so thick and rough that there can be no talk of any pleasure. The man simply does not feel anything, and the woman will shine everything from the inside and outside.
Curious cases with home -made condoms
The promised surprise is the tragicomic stories of the daredevils who were not afraid to go into all the heavy, armed with a home -made condom.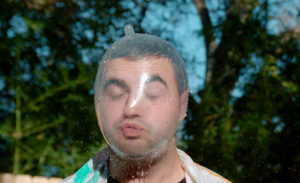 The in love pair of students of the local university Hanoi (Vietnam) used a plastic bag for their first experience because they were embarrassed to buy condoms in a pharmacy. The guys were hospitalized.
Many couples have tried protection from latex gloves. In the British questionnaire about alternative methods of protection to the question "why?»Young people replied that they were just curious.
Plastic bags for sandwiches (with "lightning") are also in the top of dangerous condom substitutes. Look at these sharp edges! However, the victims are regularly delivered to the hospital.
A rubber hat for swimming was also possible to wrap a member.
A funny story in the end. A man who decided to use a blue ball of a blue ball was published in the media. From the sight of a ball dressed on a causal place, the young man and his girlfriend had such an attack of irresistible laughter that sex had to be postponed.
Making a condom is an art. Thousands of people are developing technologies so that latex (or polyurethane) to be imperceptibly on the body, conduct the warmth of a partner, improve the anatomical form of the product. Do not ignore the progress in this industry and spend time making a life -threatening product and health, if you can purchase a quality product.