The story of my first sexual experience.
Most girls are very reverent to their first sex, and I am no exception. I did not rush around my neck to the first person, as I was waiting for my only man, who was supposed to share the pain and joy of the first sex with me. The story about the first time did not work out until I found a man and was convinced that he was the same … and began to actively prepare for our first act of love.
I was 17 years old. The first sex we had to occur after one year of relations. I, like many female representatives, adore romance. In modern men, it is difficult to arouse romantic feelings, so I decided to organize an atmosphere myself that has love joys. I bought champagne, aromatic candles, fruits and turned on relaxing music. There was no one at home, parents went to the wedding to their friends in another city. The story of the first sexual proximity began to twist and nothing was supposed to become in our way on this day.
My first sex
He came, we sat down at the table, opened champagne, drank half a bottle and decided that it was time. During long kisses, he began to undress me … His cold hands under my blouse were awakened by goosebumps, who constantly appeared on my skin. I was very worried, but I felt that I wanted it. He wanted to quickly undress me, but I resisted a little, as I was shy about showing my body. The warmth of his body relaxed me. He took me the upper part of the underwear and began to passionately kiss my chest. From excitement, my nipples became solid. Not distracting from kisses, he unbuttoned the zipper on my skirt and carefully took it off. With one hand he stroked my chest, and with the other he caressed my crotch. I felt how wet everything is between my legs. I was excited to the limit and wanted his member to enter me faster. My man continued to caress my chest, kissed my stomach, slowly sliding with his tongue. I wriggled under him like a snake, and he was still in jeans. I tried to unfasten the zipper of his jeans, but he did not allow me to do it. It seemed to me that these caresses were already lasting too long. Disrupted from desire, I made incomprehensible sounds similar to moans … I felt how his cock increases and with every sigh he became stronger. I myself did not notice how he ended up on me completely naked. My wet crotch seemed to say that she was ready for sex.
My dream has come true. I independently organized romance at home, and when it came to sex, for the most part it was the initiator of its beginning. My partner tormented my body for a long time, caressing it from head to toe. My wet vagina has already asked for pleasure. I could not endure, decided and said that I already wanted him, then my man smiled and quite easily directed his member head in my pussy. By his contented smile, I realized that it was precisely these words that my partner was waiting for.
History about the first time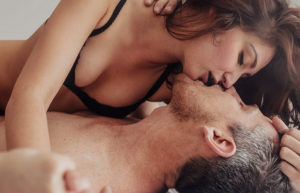 I assumed that it would hurt me soon, but the head of the penis came in too easily and confidently. Remembering the words of my girlfriends about the painful entry of the penis for the first time, I strained a little, but my man, noticing my tension, slowed down a little and began to caress my nipples and neck again. I myself do not know why, but I made a move forward, I wanted to feel his cock in my body faster. However, it was completely difficult, as if something stood in his way, then my partner made some efforts to put the member in me. And in an instant, a firm and big cock climbed into my vagina to the very testicles. I can't say that it was too painful for me, but I did not feel complete pleasure in these minutes. Enjoyment on the verge of pain. I have never experienced such a feeling.
My man tried to repeat certain movements to me, so my pain subsided. I enjoyed the fact that I was with him. His pleasure did not last long, since I felt a gradual increase in pain, and a little later I wanted to go to the toilet. After my partner got off me, I quickly ran to the bathroom, where I went to the toilet and washed away blood from my pussy.
Returning from the bathroom, I found my boyfriend who jerked off with my eyes closed, then I decided to help him in this. I did not carefully caress his penis for long, after which he finished right on my chest. On this day I enjoyed his ejaculation … He sighed so passionately when he finished. I looked at my man with adoration, who ends. My head even spinned, and I felt a slight numbness of my legs and arms. This condition is difficult to describe, it needs to be felt.
I wrote my story about the first sex under the impression of the emotions that I will remember for life. If you want to find the same one for the first time or a virgin, then they .