The story of how friends had sex – part 2.
Continuing my porn story with a friend, I felt Julia's hands let me go and she continued to caress the beautiful bends of her body, hoping to extend a pleasant sensation. I looked at her with envy, as I was boiling with a strong excitement that required satisfaction, so I began to caress my clitoris, since before. Then Julia looked at what I was doing and looked at me with a smile. She slowly approached and crouched on her knees, simultaneously lowering my wet panties. She did not say anything, but in her gaze, gratitude was read for the pleasure provided. Her tongue touched my hot vagina and I pressed it stronger against the wall of the closet.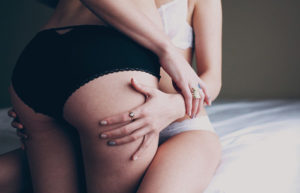 Julia made amazing things with me, which is why a wave of pleasure completely covered me. The hot tongue clearly and pleasantly caressed the clitoris, penetrating the bosom itself and then I felt that an orgasm rolls on me. The head leaned back, the legs gave way, and the hand clenched even more. Julia held my hips tightly so that I would not run away anywhere and soon the pleasure was completely overcome, the warm stream began to explode from my vagina into my friend's mouth. Grasping Julia's neck, I lifted her to me and began to kiss her passionately. At some point, we lost balance and fell out of the closet. We immediately jumped away from each other, in an attempt to avoid an unpleasant situation, but looking around, we did not see anyone.
Sex with the best friend
Without agreeing, we decided to continue our pleasure, and now we had more comfortable conditions. I started kissing her lips again, feeling my friend's trembling hands caressed my body. It was clear that Yulia especially liked my lush breasts. She constantly stroked them, then she began to lick her tongue alternately, periodically biting his nipples. Her kisses gave me a sea of pleasure, and from sweet weakness I sat down on a small desk. The right handle walked through my neck, and the left confidently caressed my heated bosom. My body wanted more, so I began to squeeze her hand further. At some point, our eyes met, and according to my lustful eyes, Julia realized what I think. She went down below and put her hardened nipple on my cave. Then her fingers spread my swollen labia and she saw how my clitoris swelled from her affection.
Having laid her chest in her palm, she began to drive a nipple on the labia, which is why I was just stunned, in fact, like my friend. To strengthen the sensations, my hips began to go slightly to the sides and more persistently to eat on my chest. Desire took full up over us and we quickly switched to the bed.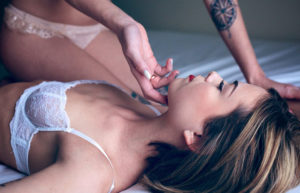 Having accommodated conveniently on the bed, our hands crossed themselves, and the labia and clit began to rub intensively against each other. I felt her thin and light pubic hairs gently tickled my skin. Our swollen tubercles tightly pressed against each other, which is why carnal juices were mixed together. From this passion inside us began to grow with greater strength.
Strong feelings completely filled the bodies, and the hips began to move faster. Orgasm advanced and soon the whole room was filled with our lustful moans. My eyes went up and I saw how the hips of Julia in a fever rotated in different directions, and her breasts rubbed with excitement about my. Her whole body moved to the beat of our passion – it began to excite me even more. Raising my eyes even higher, I stumbled upon my friend's eyes. She watched my movements with the same pleasure, you can even say that she admired me, because sex friends cannot but delight her eye. Then, unexpectedly, Julia rushed in my direction, clinging even more. Our lips greedily drowned in kisses, hands continued to caress the crotch, prolonging these pleasant sensations.
A random gaze to the side led me to an outsider. A little straining I saw that it was my brother's friend. Surprise was reflected on her face, but soon it changed. There was no shock or disgust, even on the contrary – there was a lust there. Her bright eyes simply devoured our naked bodies and how two friends have sex. For a few seconds she just stood dead at the door. Her wet hair after the soul fell on a thin, ajar robe, which was apparently borrowed from my wardrobe. However, I was not angry with this, because he approached her damn. Thin fabric eroticly emphasized its magnificent bust and nipples sticking out with excitement, and a narrow belt distinguished sexy hips even more. He was not very tight, so it was possible to see how short black hairs slightly cover her pink labia.
The lack of girlfriend does not matter, good girls are always.
Two friends have sex for the first time
Without looking up from Julia's kisses, I looked at this girl to join. Slowly, she approached our bed, and, holding her eyes at my chest, said abruptly: "My name is Dasha". After that there was a short pause and she immediately rushed to my chest. She began to spit eagerly and caress her with her tongue, confidently pulling them to the sides. Julia approached her from behind and sank near the buttocks. She felt that this part of the girl was completely not satisfied, so she began to caress her. Under the master's fingers of Julia, the back of Dasha began to wriggle and wag in different directions. This is what she needed and I understood because she began to squeeze my breasts tightly. My pleasure was on the verge of pain, but I liked everything. Then Dasha began to shake because of the approaching strong orgasm.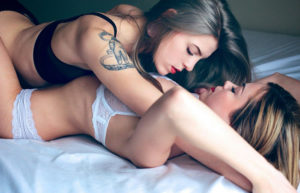 Dasha decided to thank my girlfriend for such a rare pleasure, so she switched her attention. She put her on the edge of the bed and threw her legs on her shoulders. Pulling her closer, she began to orally caress the vagina of Julia. Her tongue masterly walked through the labia of my friend, but I did not stand aside. I decided to help Dasha and, sitting next to me, with my fingers spread even more the vagina so that her tongue could penetrate deeper. With my tongue, I covered with kisses Julia's stomach and watched her reaction. In parallel with her oral affection, Dasha decided not to forget about the anal hole. Having made more pressure on Julia, she advanced her fingers in her anus, from which she screamed so. Her hands clung to the bed, so as not to accidentally fall from her due to strong excitement. Realizing that my help is no longer needed here, I went up.
My lips were approaching Julia's face, and excited nipples parallelly rubbed against her hot body. Finally, when I got to her lips, which were open from screams, I immediately began to passionately cover them with kisses, playing with her chest at the same time. We began to moan with pleasure again and then I felt something to happen behind me. Turning around, I saw how the workshops of Dasha's fingers confidently penetrate the depths of the vagina, which is why my body experiences unrealistic feelings. She continued to caress my and Juline Vagina, bringing us to frenzy. And we were still tight and stronger to each other, as if helping not to lose our heads from such pleasure as sex with the best friend. In desperation, we set up our vaginas to her, but soon we simply lay down on each other, unable to hold on to another pose anymore. Dasha decided to leave us to enjoy each other, and she sat down in the chair opposite, satisfying her own vagina with her hand, watching my friend and I burn from passion.
Dasha looked at how we flooded with excitement, which is why her masturbation intensified. Immediately I and Julia at the same time a lustful moan – we finished at the same time. My friend relaxed and continued to breathe quickly. I turned my eyes towards Dasha, and then I stumbled in her opinion, which is why an orgasm also approached her. The palm of her hands was completely immersed in the crotch and carnal juices flowed down her, and the clitoris erotically peeled out of the labia indecent sizes. Excited nipples stuck out in different directions, and the chest itself moved with heavy breathing. Watching how Dasha experienced this orgasm, another wave of pleasure passed through my body immediately. After that, my body softened, and I fell on Julia, falling asleep in a strong arms, which ended the story of my friend made love, which we later repeated, alternating traditional sex with guys with lesbian entertainment.
Do not forget the first part: "The story of how friends had sex"