Games with sensitivity. How to develop a sense of pleasure.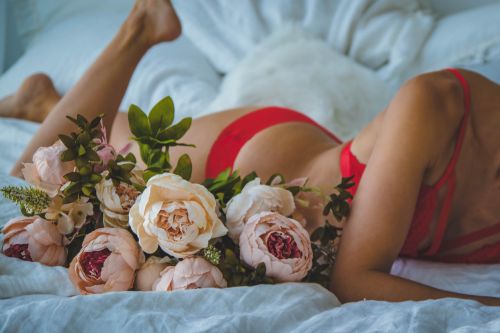 Understanding all the different sensations in sex allows us to completely enjoy what can be tested with the help of the senses. Focusing at the present moment with great awareness helps to increase our sexual pleasure.
If you and your partner want to change the atmosphere in the bedroom or just tune in to each other, a game with feelings can become exactly what you need to add a little variety to an intimate life.
In this article, we will tell you about everything that you need to know about the game with the senses, about the sex toys that you can use to increase the degree of pleasure. As well as several advantages of sexual sensory stimulation.
What is a game with feelings?
As you know, a person has five senses – touch, taste, vision, smell and hearing. Game with sensations includes involving feelings during sexual intercourse in order to increase pleasure.
Sexual actions that make you better understand physical feelings through auditory, tactile or visual games can create stress and increase excitement. All this leads:
to more intense orgasms;
less problems in sex;
gives confidence;
improves the quality of time spent in bed.
You can experiment with how many feelings (one, two or all at once) will be aggravated during sex to find out what exactly like or does not like. And there is such a thing as sensory deprivation.
This is a violation of the work in a person of certain senses. This technique is often used during sensory games to suppress some feelings, but in return to strengthen others. This is mainly done through vision, and so stimulate the activity of other feelings.
Vanilla sex against bdsm
The game with feelings can be as intense or tender as you want. Experiments are the key to the definition of what is best suited to you. If you like tenderness more, this does not mean that you can't try the game with feelings. Just the power with which you do this will not be as high as the pair, carried away by BDSM.Vanilla couples are pleased to use feathers, soft blindfolds and products for a calmer game. Tenderness and lightness can be very erotic for those who like anticipation and slow increase in sexual tension.
IN BDSM is the dynamics of power, as well as physical or psychological restriction, or punishment. Typically, one of the partners – the dominant, controls all aspects of the pleasure of the submissive, as well as the inclusion of sexual pain. These things go beyond vanilla sex.
. For example, to prohibit the submissive to experience an orgasm during a spanking, or forcing him to remain motionless while you alternate the application of wax and ice to his body. These are great examples perverted game with sensations.
How to play with each of the five feelings
Touch
Deliberate touches used to get pleasure from a partner can be one of the most sensual experiences received during sex. Depending on your level of "perversion", you can do many things to improve your touch.
Games with nipples. Includes nipple stimulation. To begin with, this can be done very tenderly, and then move on to a stronger effect, for example, using clamps for nipples. Temperature drops are ideal for supplement the sensations.
Temperature game – alternation of hot and cold to stimulate you or the body of a partner at the time of excitement. You can use wax, ice, glass or metal sex toys, lubricants with different effects, cold or hot drinks to aggravate your feelings. As already proposed above, it is great for influencing the nipples. Spend an ice on the nipple and around it to create an unusual sensation between pain and pleasure.
Flogging -This type of stimulation is preferred by lovers of a BDSM practitioner, since here it is necessary to use hands or certain sex subjects to strike at the erogenous zones of a partner. The simplest is a spang. Worms are performed mainly on the hips or buttocks of a person, but other places can also get their "attention" to achieve sexual satisfaction.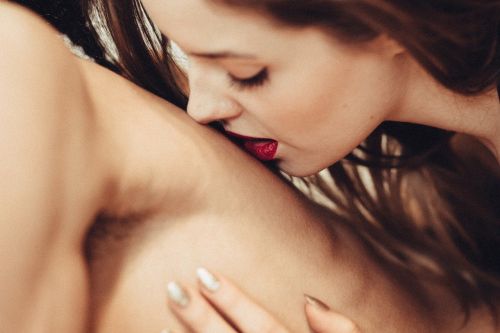 Vision
A refusal of vision during sex can be a very interesting experience. Sensory deprivation stimulates the imagination about where the next touch will be, forcing to freeze from anticipation.
Sensation of a partner's breathing on the neck, sliding of the fingers or tongue through your body, when you cannot see them, make the situation more sharp and will enhance the excitement. Muffled light or blindfolded eyes will help in this.
Another tool in which you can use vision – mirror. Place with a partner in front of the mirror so that you can see your every action. It can be very sexy and exciting when you observe how pleasure captures your bodies.
Hearing
Melodies or rhythms of music can sound so sexually that it seems that electric discharges of excitement run through the veins. And only one desire is to merge with a loved one in ecstasy for your favorite song.
Some people are being made by the sounds of pleasure that another pair experiences against the background of their own sexual excitement. It is optional for this become swingers, You can just turn on the porn movie.
Unusual, but ASMR tactics can also be used during sensory games. There are people who have a pleasant sensation of tingling when they hear certain sounds. You can do this too, using the sounds that you like and adding teasing strokes to them.
Smell
You someday thought that people are attracted to those who smell better? Therefore, smells can affect excitement. Very often, aromas can remind of something, so the use of aromas in the bedroom associated with sexual or sensual memories can improve your sensations.
Maybe the lavender candle was lit for the first time when you had sex with a partner. Or the aroma of fresh bedding will remind you of the time when you indulged in caresses after the bath. Using smells is a subtle way to stimulate another type of pleasure.
Taste
The feeling of taste is enhanced during sex or prelude in most people, as it belongs to the vanilla side. For sensations, the key point is to include everything that awakens your taste receptors well.
Good food brings great pleasure, so a great way to strengthen orgasm – to eat together during sex.
Strawberries, chocolate, whipped cream will always be a great start for caresses. It is very sensual to lick food from a partner's body or feed it with food – this is what such an involvement in the game of tastes. Delicious lubricant can also be used in sex, for example, in oral.
What items can be used for games with feelings
Filger/whip
A great way to use sensory perception. There are people who enjoy the feeling of pain, so experiments with toys that can cause easy redness are a great example of sensory stimulation.
When you try a shock game, start with a light touch, and then use a whip or a stronger slap. This transition from delicate to rude can increase pleasure and excite both partners.
You can combine tickling pen And Flogger, to make the game softer. Even the force of flogging with a whip can be controlled from strong to barely tangible touches.
Do not forget about Stop Slovo, It is necessary when you have gross sex or some kind of fetish, to preserve comfort and security.
Blindfolds
Bandage adds elements of spontaneity and expectation in sex. Betting the partner of the eye, make sure that this is not too tight, otherwise there will be unpleasant sensations of compression, lowering the degree of pleasure.
When your eyes are blindfolded, touch a partner's body in a variety of places. For example, on the back of the knees or on the scalp on the scalp, there are also erogenous areas, which should pay attention to.
Candles
Very intense version of the sensory game. Not everyone may like it or be painful if you conduct the game incorrectly. Therefore, observe safety precautions and be very careful. For the game, it is necessary to heat a special massage candle with a low melting point, and waiting for the wax to begin to melt, gently pour it on the skin of a partner or his. To add sharpness, alternate the use of ice and wax. The transition from cold to hot and vice versa can bring explosive pleasure.
What are the advantages of the game with sensations?
Increases communication
Communication is a key moment In the sensory game (as in sex in general). You and your partner must listen to each other. It is very important to be able to communicate when something likes or not, as it can make a meaning between a poor and excellent prelude.
This does not mean that it is necessary to conduct philosophical conversations, no. Ask a partner: does he like something, or ask to increase or reduce the intensity of some kind of caresses-this is excellent communication.
Eliminates problems in sex
A sensory game is a big round of preludes. This is an interesting way to prepare you for the main action. And the best option to help people who have difficulty excitement or violation of an erection.
How? Because it slows down and relieves pressure. Instead of immediately moving on to penetration, a game with sensations creates the accumulation of pleasure, which improves the quality of time spent when having sex.
With intimate problems, you can also fight with the help of sex toys, lubricants or drugs (strictly as prescribed by a doctor). To find the best solution for you, try to identify the problem, be honest with your partner and, if necessary, seek professional help.
Increases trust
Sensory game implies mutual confidence in partners. You believe that he will keep you safe and raise you to a new height of pleasure.
Some elements of the sensory game, such as flogging or the use of wax, may go wrong if you are not careful. Therefore, it is important that you trust the chosen one, and he could take care of you.
Whatever the type of sensory game you use, make sure that everything will go comfortably for you and your partner. Everything should be agreed upon. And, if at some point the situation becomes too tense or painful, Stop immediately.
Some areas of the sensory game require great practice and experience, so see your skills and get ready in advance! The more you know, the more pleasure you will receive.