Sex story: beloved mature mother-in-law … anal games with a son-in-law and a strapon.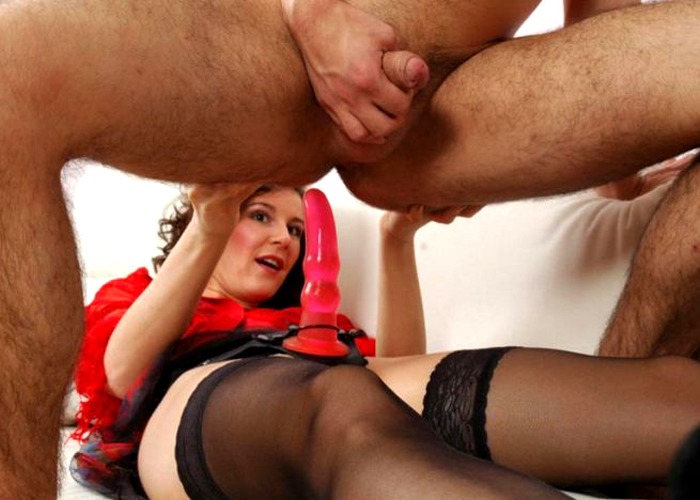 My name is Vladimir and I love my mother -in -law. We have always had a good relationship since I married her daughter. I am 10 years older than my wife, so I left the mother -in -law by age.
We always had some kind of invisible game. I tried a couple of times to look from above and behind what her bra has, how he tightens her huge chest. And he was caught. The mother -in -law of Stopudovo noticed, smiled, but pretended as if nothing had happened.
Antonina, my mother -in -law, my husband died 8 years ago and now lived alone. Only 20 minutes drive from our apartment.
She called me in a week and asked if I could come on the weekend and help her make out the trash on the balcony. Alena was at work all day, so I immediately agreed.
I could not wait for Saturday to come, so that I could spend time with Tonya and who knows what I can do to see ..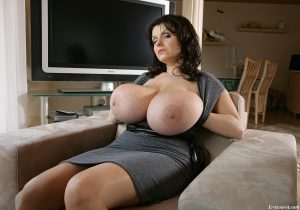 She went to the balcony to greet me as soon as I entered the courtyard of their house. Usually, she wore t -shirts and sweaters with a deep neckline and free skirts just above the knees. For her 68 years, she had thick blond hair that fell on her shoulders, tight legs and large breasts. She had several extra pounds, but she dressed so skillfully that she did not seem a fat woman, and her figure looked quite good.
I went up to the apartment and suddenly she met me with a hug and a quick hot kiss on the lips. I felt on my chest through a sweater her hot large chest, which was intensively heaved. My eyes darkened and there was only one thought – that there is nothing more under her free dress.
Kiss and hug were hot, but short. She led me to the balcony with the kind, as if nothing had happened. I even thought that it was my inflamed fantasy that suggested too much that there was nothing special in the behavior.
She walked ahead, I, on cotton legs, fell at the back, admired the lush back that swayed under a light skirt, elastic legs. When she turned – I could not take my eyes off her chest in the neckline.
Together with my curiosity, my cock awakened. Got so elastic and tight that he protruded his pants. And even the jumper did not hide the protruding hill.
We went out onto the balcony, Antonina with the most ordinary look showed me – what to get from the upper shelves, put in boxes and take it to the trash.
Then she left me alone for work and went out. I calmed down a little, took a breath and climbed onto a stepladder and began to get all kinds of banks, old newspapers and some other trash from the upper cabinets. A large cardboard box stood in the farthest corner. I pulled the edge, could not resist and fell with the box. It opened, the contents scattered on the floor, and my breath caught my breath ..
There was a set of garters in the box, stockings, an extensive collection of vibrorsikov. But the greatest surprise – under all the clothes there were several different sizes of vibrators, lubricants, shackles in several different styles. As well as a strap -on with a harness of about 20 cm in length and impressive thickness.
I was stunned and began to be very excited at the thought that Tonya would be dressed in this clothes and would use a strapon for me. Wild desire overlapped embarrassment. I took the box and brought it to the house in the kitchen, where she was busy at the stove.
I put a box closed with a lid on the table. She blushed densely, t.To. I realized that I know about its contents.
– You are sure you want to use these things?- I asked, looking right in her eyes.
She did not answer at once and did not look into my eyes.
But I began to cover a wave of excitement and I, without thinking, suffered anything unintelligible:
– Did you use this when you were married to Sergey Petrovich?
She began to get nervous and fussyly move around the kitchen. I looked at her, then a little sharply I took her chin in my hand, raising my head up to look in her eyes from above and told her:
– Tonya, you can tell me everything. We are a family and I will understand…
She blushed even more, nodded and said:
– OK then…
She opened the box, began to sort out some objects with her fingers, I saw her gaze at my bugrist, strongly bulging fly. She must have noticed that the member was a skill, took a deep breath and told me to sit.
– Ah, yes Volodya, I used all these things. Seryozha loved to dress me up and use vibrators. And we put on a strapon on him, as well as at me while he looked. Sometimes I knitted him, and he was dressed in these things, and I forced him to suck me like a pie, and then fucked him in his ass. We did all this in the bedroom, both in the kitchen and on the balcony. I loved to do this, and he loved the same, and I seem to miss him now.
When she stopped speaking, I saw that she breathes a little heavier than usual. I was stunned, as well as a little in shock from such frankness, as well as incredibly excited. There was a muddy veil in front of my eyes, my legs were cotton. The chest was squeezed, and everything was burning in the groin.
She asked me:
– You feel good, Volodya?
I nodded weakly and said:
– It is a pity that I affected painful memories and upset you, Tonya. Sorry for the tactlessness. And let's not be about it anymore.
– No need to regret anyone, I am glad that I told you about it, it makes me feel better. But why now you want me not to tell you?
-I am embarrassed to somehow talk to you about it. Anyway. It is somehow inconvenient to hold it all in my hands, "I said, but somehow uncertainly.
She answered:
– Just do not say that this is what you want, and my daughter does not play with you in these toys?
-Alena is a little conservative in relation to sex toys or anal games. Do not understand me wrong, our sexual life is good, but you know, I would like a little more.
– Hmm, yes … I know what you mean ..
And it seemed to me she meant something more.
"Listen," she said, "I will put this box away, you go, take the garbage from the balcony, and then we will drink tea and chat a little more.
She turned, left the kitchen, I collected garbage from the balcony and went outside. When he returned – the door to the apartment was open. I heard Antonina's voice from the bedroom. She asked to help her get something with the mezzanine.
I went into the room and was dumbfounded.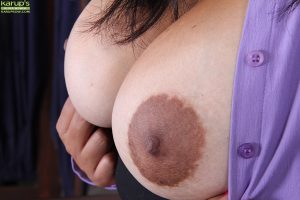 She lay on the bed in a transparent bra, in which there were holes in the middle and chocolate nipples stuck out. The waist was wearing a black hard belt for stockings, on his feet – the stockings themselves. Black and hard, beautifully trimmed bush sticking out on a snow -white pubis.
She was wearing a strap -on with a large phalloimitator in front.
I just stood there with my mouth, my dick is getting stronger with every second, in my head, a cheap, a red veil covered my eyes. Tonya looked down and saw a bulge on my jeans.
She said:
– It looks like you want to know a little more … go. I will tell you how to use it.
I unable to say anything, I just nodded.
– Naked!!! She ordered.
Without hesitation, I undressed in front of my 68-year-old mother-in-law, catching my breath in a bent throat. When I lowered my boxers, I finally raised my eyes to Tonya.
She came up to me and, putting her hands on my neck, kissed me deeply, her tongue worked in my mouth rudely, decisively, sharply. It was a strange feeling that my half -naked mother -in -law is opposite my body, she worked in my mouth in my mouth, and her right hand aggressively makes her way down to my cock.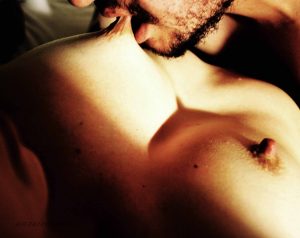 When she began to slowly but decisively stroke him, I held out my hand and began to twist her nipples sticking out of the holes in a bra. At first neatly and slowly, and then, as if distraught, stronger and sharper. She, like me, began to tremble hard.
She stepped back and put her hands on my shoulders softly forced me to kneel. I knew what she wanted, and I was excited even more, realizing that I would have to suck the clitoris, and then a huge member at strapon.
I licked the clitoris, and then put the penis in my mouth and looking up, I could see that she was looking down at me and twisting her nipples. I began to suck a member, throwing my head up and down. Then he held out his hand and slipped his fingers with his fingers with his fingers, and then, releasing a member from his mouth, he sucked her clitoris.
She was trembling all, but in a strict, commanding voice told me:
– Do not touch me, Volodya, you will suck my cock, and I will play with your pussy yourself!
Listening to her dirty words, I started even stronger, grabbed my own member with my hand, she inserted one first, then 2, then all 5 fingers in her pussy and began to drive there intensively there. Everything squeezed, she shouted curses. In my mouth there was a phallimitator from strapon, and with my second hand I jerked off my dick.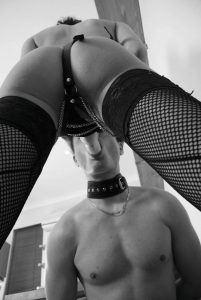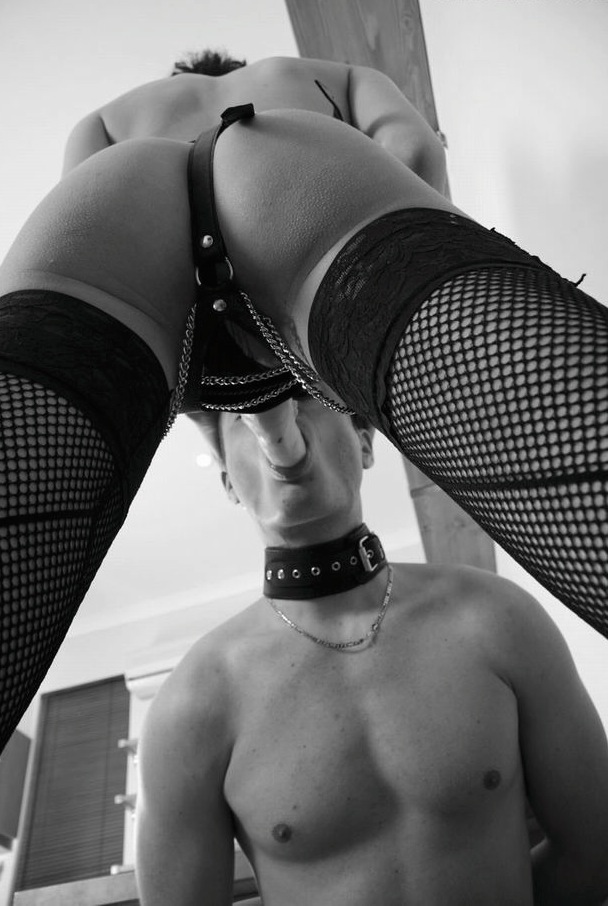 I heard her noisy heavy breathing, then I stopped restraining and we began in unison, to make some loud hoarse sounds like wild animals.
When an orgasm began to approach, she sharply broke away from me.
– No, – she was choking, – stand in front of me.
I stood in front of her with a riser who could raise a truck.
– Oh tonya, – I gasped – please do what you want with me.
All that I could think about then is like my mother -in -law enters my ass with my fastened member ..
She laid her hands on my shoulders and turned me so that I stood with her back to her, expecting a strap -on to enter my ass. But she stood behind my back, breathed heavily and nothing happened. Excitement increased in an prohibitive peak. I bent a little forward, took up the buttocks, pushed them over and tried to feel a member of the mother -in -law behind … and put myself on him. She poked it a little into the anus, but did not enter and slightly moved back.
Then she gave a tangible slap on the ass and strictly, like a teacher, said:
– Go quickly to the shower, I want you to be clean, everywhere.
Having climbed into the shower, I soaped myself, delaying more than usual on my solid member. Slowly hit him and thought about what should happen. But stopped after a couple of blows, not wanting to end too early. I left the shower, without wiping went to the bedroom.
When I entered the bedroom, I noticed that she put a towel on the bed, and a tube of grease on the nightstand next to the bed.
– Kiss me Volodya, kiss your mother -in -law who is going to fuck you.
I went up to her and kissed her with all the passion and lust of the new lover. I stroked her breasts through the bra, she moaned into my mouth, and began to rub my body, I felt, a member of the strapon rubs about my dick and stomach. I knew that soon she would be in my ass.
"Turn around," she ordered, "and go to the bed.
I stopped by the bed, she moved behind me and I felt a member from Strapon began to make his way between my legs. She hugged me and grabbed my cock, slowly stroked him and hissed hoarsely and moistly in her ear:
– Volodya – I will fuck your ass like a pie. It will not you, Volodya, not your ass. I will fuck a pie!
I doubted, too scared of the moment.
– Tell me, Volodya, that you beg you to fuck you.
– Yes, Tonya! – I almost shouted: – Please, tinting me, fuck my ass. Make my ass pie, I'm your pie!
"Good, dear," she whispered affectionately.
And then again became rough and sharp. She screamed and pushed me onto the bed:
– Stand on all fours, put your head on the bed, spread your legs and stretch your hand and open this virgin ass for me.
I did as it was ordered … I was suffocating and could not believe that after all these years of one of my fantasies it was destined to come true … with mother -in -law ..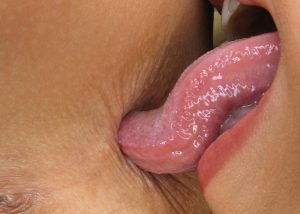 I held out my hand back and spread my buttocks apart. Suddenly I felt her hands on my buttocks, who pulled them even more. Then I felt her hot breath. She gently blew on my wrinkled ring. My elderly mother -in -law licked my ass, kissed me on the anus. I moaned, I felt her tongue penetrated my ass, then ran through my eggs, then again penetrated my hole, where he lingered, and then began to slowly move deep into – outside – deeper – to the outside.
Her tongue fucked my ass!!! I was choking and screamed. Now I myself began to move the anus, planting my ass on her tongue.
At the same time, her hands approached the front of my thigh, her hands wrapped around the member and began to stretch me back. I felt that this was not a hard, wet, hot tip of the tongue, this nimble lizard enters and leaves my anus.
I grabbed my cock, I needed help, and the pleasure was so strong that I need to finish.
She pulled away:
– No Volodya!
And then she slapped me along the buttock and shouted:
– Until I told you.
I reluctantly released my frantic cock and looked back. She stood naked, in the same bra with chocolate excited nipples, sprayed with lubricant on an artificial member on strapon and slowly jerked off. She looked in my eyes right, I felt that I would explode now – this is how I dreamed of seeing the member jerk off before my eyes.
She jerked me to face me in bed. I felt something cold and sticky poured into my anus and jumped up from surprise. She again abruptly pressed me down down into the bed and began to pour oil over my buttocks, gradually picked up to the anus.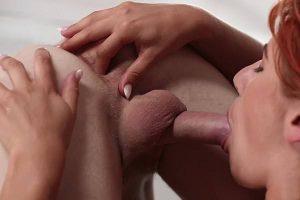 When I felt her fingers entered my crack, the pain was delightful! At that moment I was not worried about what happened, she could do everything she wanted. She slowly introduced a member into the anus. I gasped when she began to slide forward and backward, I felt pain and powerful lust, I moved forward and forth, urging her to continue to fuck me.
"God," I shouted, "this is your son -in -law, tone!!!
She began to push at first slowly, then faster, she laid her hands on my hips and pulled me back on her, she pushed forward, the feeling was sensational, I felt so close to orgasm, I did not even touch myself, but … she changed the paceAnd the technique, slowly pulled her artificial cock and pushed it back. It was like the first penetration into my anus. And then again and again.
She shouted:
– Now you are my whore!
I suffocated and shouted:
– Yes, Tonya, I'm your whore!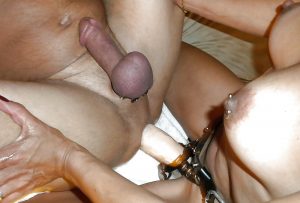 I pushed myself back and told her:
– Fuck me, make me your.
It was almost too much for me and I told her that I would finish now.
– Lie down on your back, I want to see how you finish. She said and came out of me as her member.
I turned over and first looked at my sexual mother -in -law. She stood spreading her legs, the bush of her hair fell and sticking together, the nipples stuck out of the bra, the member on the strapon was all slippery with lubrication, she breathes heavily, her body was covered with oil.
Smiling, she bent my legs up, again entered my ass from below with one quick movement. She began to fuck me now in earnest.
– Volodya, now you are my whore, I will have you when I want, but right now I want to see how you will end. But before that, masturbate yourself.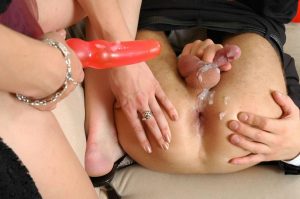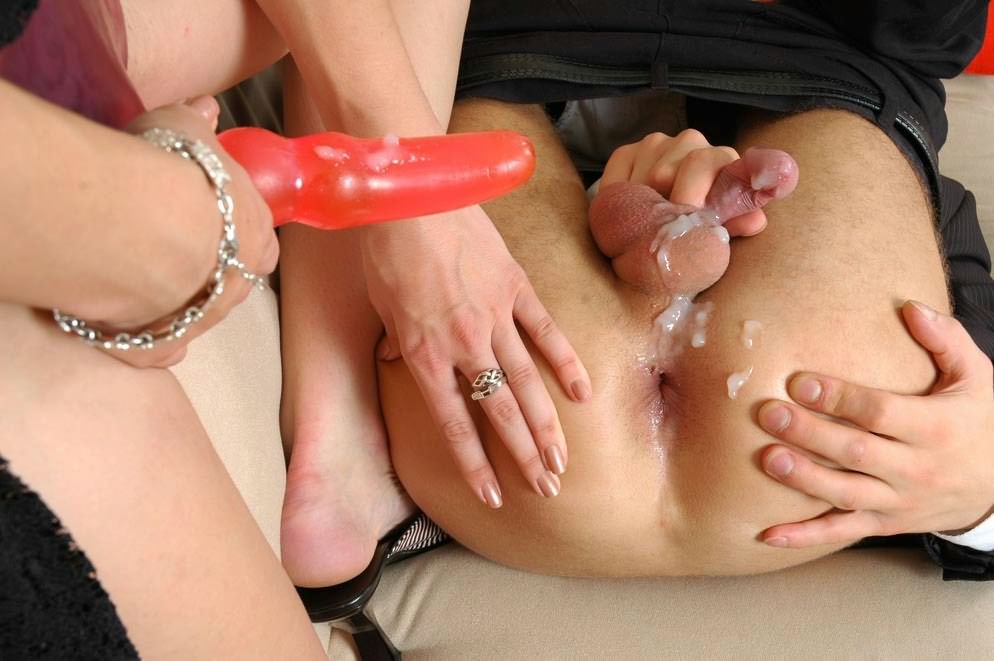 I grabbed my dick and began to jerk off
– Slowly! – she said,
Tonya held out his hand and unfastened the bra, finally, I looked at these breasts, which I secretly watched for several years. She slipped into the bra and threw him across the room, she began to fuck me stronger and faster. Then he held out his hand and began to play with her chest, rolling the nipples between his fingers.
This sight was too breathtaking to me
"Tonya," I shouted, "I'm going to finish! – stroking my cock faster and faster,
– Volodya, ending on the stomach.
I shuddered, and my penis exploded, the first spray came to my chest, the latter are just lower, slowly jumping. Tonya stopped frictions and watched how I covered myself with my own sperm.
She pulled a strapon out of my ass, lay down next to, leaning and kissing my lips, she looked down, and then began to rub sperm throughout my body.

Looking at me, she smiled and said:
– I do not think that I will throw it all now, in fact, I even dug up shackles and ropes.
Then she winked at me.
I can't wait until the next visit ..