Anal masturbation. How to learn, simple tips, useful accessories.
Anal masturbation is practiced by men and women. It allows you to enjoy, relax and get to know your body better. In order for the process to be safe, you need to use suitable accessories and follow the safety rules.
Types of anal masturbation
Anus caresses can be very different, there is no single way of exposure. And everyone is looking for an optimal solution for themselves, and often combines several methods.
External caresses. Touching areas around the anus without immersing something inward. The crotch and the intacious area is involved. Caresses are performed with hands, stream of water, sex toys.
Introduction of traffic jams. Anal plag is immersed in the anus, it gives fullness and expansion. In this case, vibration may turn on if it is. But no object movements occur, it is simply located inside.
Wearing traffic jams. Experiments are held not only in the framework of the house, but also on the street. Under the clothes, the cork is invisible, vibration works silently. In this case, control occurs from a remote control or smartphone. Experiments of transferring control to the partner at a distance are possible.
Active stimulation. Fingers or objects immerse them in the anus and they perform active movements. It is like classic penetration with vaginal sex, but in another hole.
Extension. The introduction of large objects into the anus for pleasure, bordering on pain. A item with a diameter of up to 10-12 cm can enter the body.
Washing, filling with water. Games of this kind can be dangerous for health, as intestinal microflora is washed.
Everyone tries different ways to caress. This opens up new sensations, activates the nerve endings, which were not previously involved.
Mandatory accessory – lubrication
Any games with anus should be made with grease. Lubricant It is necessary to protect the skin from injuries. In this case, it is necessary to use safe things that can be immersed in the body.
Sex shop lubricants are designed specifically for sex. If they get inside, and so it does not cause irritation, microflora disorders or inflammation. They are safe even With frequent experiments.
Authorities should not be used for the anus, as they can cause dozens of diseases. Therefore, saliva, baby cream, petroleum jelly, sunflower oil should not be used for masturbation. It is hazardous to health.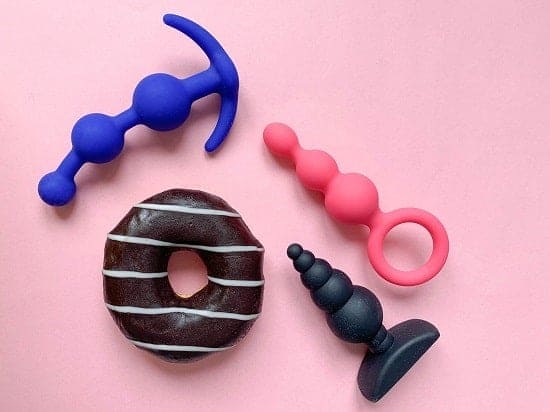 What lubricant to choose for anal games
There are special "anal lubricants". Any of them is suitable for masturbation. But it is important to clarify whether sex toys or latex products (condoms or gloves) will be used).
With latex and silicone, lubrication is used only on water -based. It does not react with these materials, does not spoil them and does not pose dangerous.
If the experiments are held in water, then silicone lubrication is ideal. It does not wash off right away, glides even if there is moisture. And it can be used with condoms, but not with all sex toys.
Choose anal lubricant of excellent quality
Safe anal masturbation rules
In order for anal masturbation to pass painlessly and without negative consequences, there are several simple rules that should be followed:
1. Lubrication at the beginning. Apply a lubricant immediately, and not in the middle of the game. It should be present even when one finger is immersed. This is the necessary skin protection, do not forget about it. And in the process sometimes you need to add funds if it suddenly seems that the sliding is not smooth enough.
2. Low speed. You need to move very carefully – without sharp jerks. Everything must be done smoothly. Acceleration leads to cracks, and this heals for a long time and causes unpleasant sensations.
3. Gradual expansion. The anus is not designed to introduce objects, so preparation is needed to take a sex toy or several fingers. Move is very smooth to enable sphincters to relax. It is the gradual that guarantees the lack of unpleasant sensations.
4. Lack of pain. It should be pleasant in the process, there should be no pain. If it is, then there is a violation of the integrity of the skin, and this is dangerous. Any pain is a signal for stopping. If it stops, you can move on, but slower. If the stop does not help, this time it is worth abandoning this type of stimulation.
Everyone can learn stimulation, it's just. But unlike other experiments, with the anus, everything needs to be done gradually.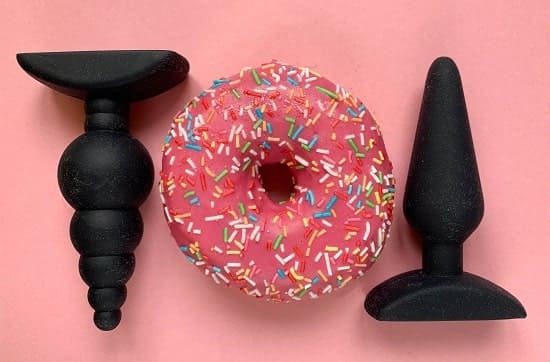 Contraindications for games with anus
There are situations when experiments with the anus need to be postponed. There are diseases that can worsen if you practice anal sex.
Haemorrhoids. At any stage of the disease, anal is prohibited. No need to believe those who say that this is a massage and it will remove the "knots". It's a delusion. Anal sex worsens the condition, does not help restore at all. And even with a predisposition to hemorrhoids, it is worth acting very carefully.
Inflammation of the urine system. It is necessary to consult a doctor before experiments in bed. Most often you need to recover, and then look for new sensations.
Sexual infections. Require treatment, you need to consult a doctor, and sexual intercourse and masturbation limit. Without the permission of the doctor do not need to take risks.
Violation of the chair. Constipation or diarrhea is an occasion not to touch the anus. No need to think that anal sex will restore the functioning of the intestines. "Treat" problems is not recommended, the probability of deterioration is huge.
Prostatitis in the stage of exacerbation. With this disease, massage is recommended, but not at the stage of inflammation. It is necessary to remove the exacerbation, and only then begin to practice massage of the gland so that the problems do not occur again.
Cracks. If the anus is injured, if it has not yet restored after previous experiments, it should be postponed by masturbation. Wounds tend to deepen and become inflamed, you do not need to bring to this.
If there are problems with digestion, severity or bloating in the stomach is observed, you also do not need to practice anal sex. Such experience is only appropriate when a person feels completely healthy.
Pose for anal experiments
Anal masturbation requires the correct location. It is necessary to accommodate conveniently so that nothing interferes with movements, does not distract from the process. The following poses are most often used:
Lying on the back. In this case, you need to either spread your legs, or raise them to the shoulders. With your hands perform manipulations with anus.
Squatting. In this position you can reach the anus and stimulate it quite intensively. Suitable for those who can sit with bent legs for a long time.
On the knees. The pose on all fours is interesting, but the device is required. But if the toy is attached to the wall, then you can sit on it, leaning on your hands and knees.
On the side. Sliding pose for people with long hands. You can stretch between the legs, or you can side. And each person always has preference, someone chooses the right, and someone is the left side.
Standing. The pose becomes more convenient if one leg is lifted to some support, for example, on a bathroom or on a chair.
There can be no "correct" pose for pleasure, everyone is looking for an option for themselves, in which it is most convenient to relax.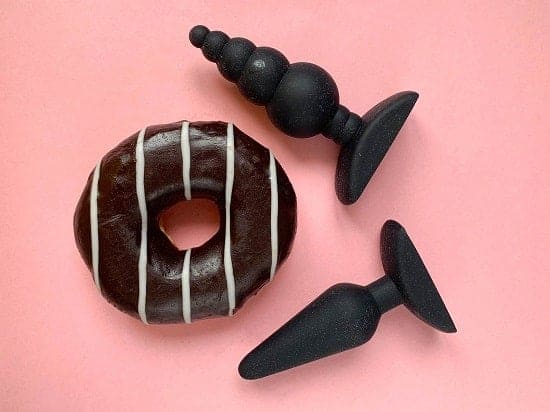 Useful sex toys for masturbation of anus
Masturbation is more interesting if you use sex toys. They help to caress the body so that it is pleasant and safe. All of them are equipped with limiters so that the item does not enter too deep and could be easily extracted from the body. The form is different, but always safe and comfortable.
Manufacturers came up with dozens of different types of goods, which at the same time can be useful.
Anal traffic jams. Conical objects with a narrow leg. The diameter can start from 8 mm, the models for beginners are very small. Ideal for preparing the anus, allow you to gradually expand the hole. . Not intended for active stimulation, but ideal for wearing. Models with vibration give a maximum pleasant sensations.
Traffic jams. The limiter has a special shape to conveniently be located between the buttocks. It does not interfere with movements, does not rub, does not press. In this case, the cork can be equipped with vibration, but controlled from the remote control or smartphone. This is convenient, adds piquancy to use. At the same time, no one around will find out that in the body of a sex toy, only his own behavior can give out a person.
Anal stimulants. Developed to make progressive movements. Stimulation is similar to ordinary frictions in sex. In this case, the surface is smooth or embossed. The presence of protrusions, ribs enhances sensations, gives a larger wall massage.
Falloimitators. These are also stimulants, but made in the form of a penis. To the touch are very similar to an ordinary body. The diameter and length are different, each selects the shape and size that he likes.
Separately distinguish anal tails, anal jewelry, these are corks for the anus, but with special characteristics. They often serve as a body decoration or by the way to try on a new image.
Very popular anal toys with a sucker at the base. They are able to use them without the help of hands. They are attached on even surfaces, located horizontally or vertically.
Anal masturbation shower
The feeling of pouring water into the body is very unusual, it can excite. And that is why the enema for some people is a sex toy, and not just a hygienic thing. And some couples use intestinal cleansing for prelude.
It is important to understand that the frequent ingress of water is dangerous to health. Moisture washed the microflora, which can disrupt digestion. Such manipulations are permissible 1-2 times a month, but not more often. It is important to use purified water to avoid infection.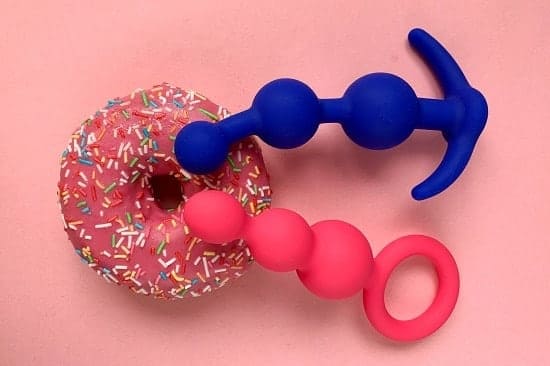 Negative consequences of improper anal stimulation
If you ignore contraindications and not follow the rules, anal stimulation can be dangerous. Negative consequences are not often found, they are associated with inattention to their well -being.
Anal bleeding. Occur during injury inside the intestines. If you use sharp objects, problems may arise. That is why stimulation should be performed either with hands or safe sex toys. If blood appears, practice should be stopped. If the bleeding is not strong, but it does not pass for more than a day, you need to see urgently to the doctor. If the blood pours strongly, it is important to immediately call an ambulance.
Gaps. This is a violation of the integrity of the anus. If you abruptly introduce something huge, they can happen. This is a very rare thing with self -stimulation, but it is important to be more accurate, not to allow rushing and lack of lubrication.
Cracks. Often found, especially in beginners. Their symptom itching, burning, mild pain during defecation after anal. These are injuries of the anus, but not big. Most often they heal themselves in 2-7 days. But if an infection gets into them, the pain will become strong, it will interfere with sit, you need to go to the doctor. Inflammation is treated by a proctologist. To avoid cracks, move slowly and use a lot of proper lubrication.
Negative consequences are treated, but it takes a lot of time. It is better not to bring to injuries.
Stucking objects, how and why it happens
Another problem of anal masturbation is stuck objects. Each year, thousands of people turn to the surgeons with the fact that some thing is stuck inside. Tennis balls, cucumbers and carrots, pens, deodorants, etc. get out of the body.
How does this happen? A person introduces something without a limiter into the body. Easy to pushes the object a little deeper, and it completely enters the anus. The hole closes, and then it does not go out to extract the object. It is not possible to "hook" a homemade stimulator. And only the doctor can help.
How to avoid such a trouble? Apply objects with a limiter. Who cannot come in whole. It is precisely the same that anal sex toys make that they can easily be removed.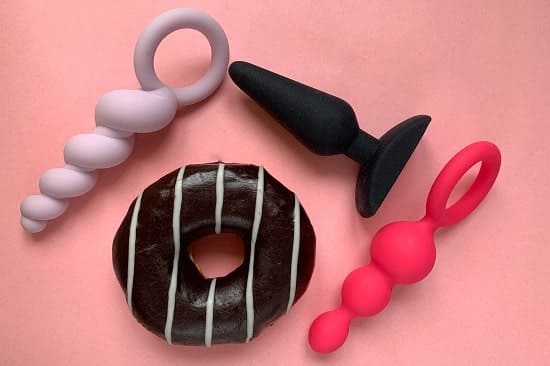 The doctor's opinion about anal sex
Doctors consider stimulation of the anus an acceptable occupation. It is not recommended for people with diseases described above. Such an experience does not harm a healthy person. But provided that items with a diameter of not more than 6 cm are introduced inside.
They confirm that anal sex does not lead to fecal incontinence or involuntary gas outrageous. These are myths that should not be believed. Such consequences are possible after fisting, but with regular stretching of the anus to large sizes. After ordinary anal sex or actions that imitate it, there are no such consequences.
But at the same time, doctors recommend practicing often: no more than 2 times a week anal games. So that all the microcracks that arise have time to drag out.
Questions about anal stimulation
And how these two experience differ from each other? You pay enough attention to your husband? Do you give him the feedback about what you feel and what you expect from him? Often the problem is in communication, because with masturbation it is not necessary to explain anything to anyone, you yourself feel everything. And in a pair you need to make it clear to the partner what you need, how to behave himself.Yes, anal masturbation accustoms the body to such caresses. Firstly, it allows you to "wake up" erogenous zones in this area, and they are included and functioning all their lives. Secondly, the sphincters are accustomed to the sensation of the "subject inside". After such experiments, this does not seem terrible or painful, there is no resistance, which means there is more pleasure. But it is important to understand that masturbation and pair sex are very different things, and sometimes it is more interesting to go together.The smell of discharge can be absorbed into the skin. Some of them are clogged under the nails. That is why it is recommended to use latex gloves. They do not reduce sensations, but protect it from pollution. If there are no gloves, you can pull the condom on your fingers. This is not very convenient, but quite applicable.